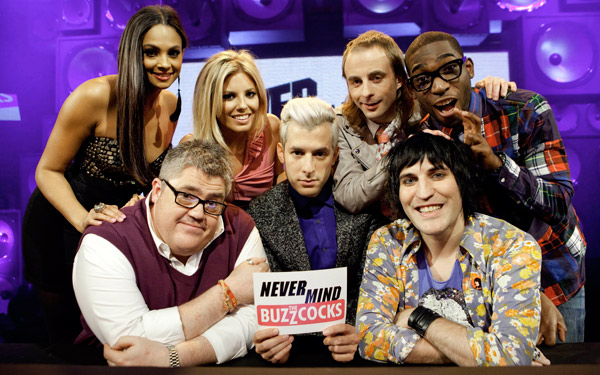 I still can't believe that Never Mind The Buzzcocks is into its 14th year and 24th series:  I was eleven years old when it started, isn't that incredible? And despite all the various line-up changes, I've consistently loved it and it's no different now, with Noel Fielding and the ever-present Phill Jupitus as team captains, and a different guest host at the helm each week. That Mark Ronson though… not *much* of a presenter, is he?
Luckily, that didn't really mar the music panel show's return too much, thanks to Noel and Phill being on form and a rather stand-out, flamboyant turn from comedian Paul Foot (whose Edinburgh show Noel just happened to direct this summer). Those who watched the supreme Grandma's House will know that Amstell worried he was being mean for mean's sake when he was host, and while I thought he kept the right side of the line, apparently even Phill felt that the show was heading in the wrong direction, with one guest being booked every week specifically to be ripped to shreds by Simon.
Nowadays, it's more of a 'mad hatter's tea party', as Noel puts it, with surreality and whimsy taking precedence over satire and cutting wit. It's a different show but equally fun, and with some of my favourite comedy performers including Robert Webb, Tim Minchin, and David O'Doherty – plus the surprise package Josh Groban – hosting over the next few weeks, I reckon we should be in for a rather wonderful series.
Horizon: Magic and science collide
Back on Monday, Horizon continued in its general brilliance with Is Seeing Believing? — a documentary about how the illusions and tricks that magicians have been doing for millennia are now helping scientists learn more about how our senses work.
Over the course of an hour we were persuaded that there is no such thing as colour, (they are simply little bundles of energy, obviously); it was proved that our senses absolutely do not work independently; and we met an incredible guy who has taught himself to echo-locate — just like a bat — with tongue clicks to overcome his blindness.
Most insanely of all though, we were shown a film of man apparently saying the words 'bar' and 'far' repeatedly. Now, that might not sound *that* insane, but my mind was officially blown when we were told that the sound we were hearing each time was actually 'bar' – we only thought we were hearing 'far' because of the mouth shape we saw.
You'd think that once you'd learnt this, you could watch the man making the 'f' shape, and still hear 'bar' BUT NO. It is so hard-wired into us to hear by watching that despite having just been told that the only word being broadcast is 'bar', you couldn't help but hear 'far'! Seriously, watch it.
X-Factor infuriates
And so we come to the behemoth that is ITV's The X Factor which is now a few weeks into the live shows. I'm afraid I'm one of those annoying people who genuinely does watch it precisely because it has a unique ability to infuriate, which means that the Twitter commentary is a delight.
This Saturday, the Twitterati had even more to get indignant about than usual, when those arbiters of taste Louis, Cheryl, Dannii and Simon, deemed the likes of amazing pop song Toxic, amazing jazz standard Why Don't You Do Right and amazing rock anthem Whole Lotta Love 'guilty pleasures'. Heathens. Luckily, Dermot O'Leary, who appears to be allowing himself one comment every week that undermines the whole show, admitted that the definition of guilty pleasure was being taken rather loosely.
More Spaced! …maybe
Elsewhere this week, ITV4 wisely cut my question out of the brilliant new Mark Watson sports quiz Mark Watson Kicks Off (nice to go to the recording and ask my question, even nicer not to have to watch myself back), and the wonderful Jessica Hynes stated on Something for the Weekend that she would love to make more Spaced. Er, can I get a ZOMG? But be still, my beating heart, she also intimated that it's out of her hands… damn you Simon Pegg and your incredible career.
Next time, we check out The Event, I finally catch up with Mark Gatiss's History of Horror, and — on a not dissimilar theme — one of 2009's greatest shows Psychoville returns to our screens. Take a look at the 'cursed' trailer to get you in the mood…