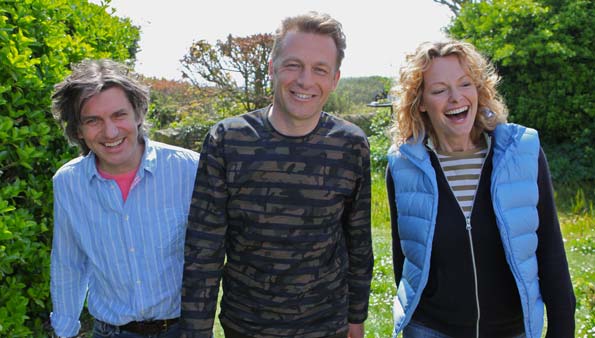 I was on the damp, crowded Northern line this evening with a book in my hand. That book was BirdwatchingWatching by Alex Horne. And keeping the page in that book was a sheet of as yet unused Doctor Who stickers. On that tube, I was looked at with pity. Here, at Dork Adore, I know I am among friends…
Ecosystems – a Design For Life
Anyone who follows this blog with any sort of interest (hello!) will know that I love me a nature programme. Such beauty, such calm. Springwatch — and indeed Autumnwatch — combine that beauty and calm with moments of live drama, a bit of frenzied action here and there, silly jokes and, in Chris Packham's case, high geekery. I love it.
This year has been particularly wonderful so far, despite missing the excellent Simon King, whose roving reporter slot is being taken by a different guest presenter each week. We've had sand pipers' nests being tragically destroyed by a clumsy sheep, fledging chicks stepping out of the nest and straight into a gushing waterfall (and surviving), and handfuls of tiny toads (literally, it was astonishing).
Best of all so far though was guest host Charlie having to commentate live over his own camera-work — pretty neat stuff. He'd been talking about the trial to reintroduce beavers to Scotland all week and finally, on Thursday, one swam by during the show. Chris and Kate Humble quickly broke off whatever they were no doubt giggling about to throw to him, and, no-one else apparently around, he had to do all the work himself, staying focussed on the animal as it sauntered through the lake, and whispering excitedly at the same time. Genuinely impressive.
And yes, dear old Chris has been up to his indie tricks again, attempting to drop the names of songs into conversation as casually as possible. With the Springwatch crew set up in Wales this year, he's opted for Manic Street Preachers' tracks — the game given away literally moments into last Monday's opening episode when he described an ecosystem as a Design For Life. To be fair, that's pretty good.
Let's Kill Hitler!
I have to be honest, I'm a bit obsessed with the 'next episode' title that flashed up at the end of this Saturday's "mid-season finale" of Doctor Who. I've barely stopped laughing since. Let's Kill Hitler?! I mean, really.
But I shouldn't let it overshadow what was, I think, a mighty fine episode. A lot of people, it seems, didn't like it, having guessed the answer to the question 'who is River Song?' the moment we discovered Amy was pregnant (I didn't, whatcha gunna do). But for me, it was the perfect coming together of Russell T Davies-esque emotion — sentiment, even — and those stunning touches of genius with which Steven Moffat sprinkles his episodes.
I loved the thin/fat gay anglican couple, the Star Wars-y sets and monks, the sweet reveal with the sewed lettering. I loved big blue Dorium, the Victorian lesbian Silurian, and the fact that we were fooled twice by the same trick. I haven't loved this series — that darling Tardis and cool stetsons aside — but I loved this.
Check out Nick's review of A Good Man Goes to War.