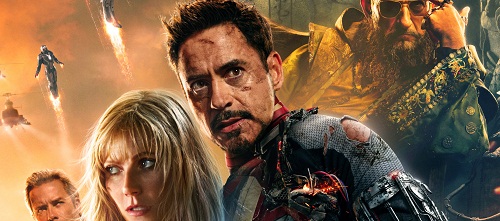 Iron Man! Charismatic alter-ego of Robert Downey Jr, lynchpin of Marvel Comics films, red and yellow saviour of capitalism! After the record-breaking powerhouse of last year's Avengers, Tony Stark returns in his third solo movie – can he charm us all anew?
With new director Shane Black, new villain The Mandarin and new post-traumatic stress problems after his alien encounter (clearly he didn't like the Avengers movie as much as the rest of us), there's definitely material. Review time! I'll try and keep spoilers to a minimum.
CLANG
Some had problems with Iron Man 2 – I didn't hate it, but there wasn't really a solid plot amid the mass of characters and Avengers set-up. This threequel, much to everyone's relief, has renewed focus, a single-minded pursuit of one story. And rather than nestling in its comfort zone, Iron Man 3 throws Downey Jr's Tony Stark into odd places.
A good move for that character, as being out of his element gets the self-reassuring quips flooding out. Iron Man 3 is reliably, regularly funny – if you enjoy clanging head-on impacts, this film is definitely for you. And in general, Downey Jr is excellent here, pulling off the ego and emotions whenever needed.
The regular supporting players show up on time again – no needless cameos from Avengers cast this time, but Don Cheadle's James Rhodes and Gwyneth Paltrow's Pepper Potts bounce off our hero enough to seem important, without distracting from his status as Centre Of Attention.
ROBOBUCKET
One way they've made this Iron Movie more dramatic and exciting is by reducing the appearances of the flying robobucket himself. Perhaps they noticed prolonged armour-on-armour fights can end up feeling like weightless video games, so instead we often get an exposed Tony Stark, taking on powered up humans with only a little technology.
Maybe some will say that isn't what we see these films for, but it works well here, bringing the humanity out of the action. The villains are decent, especially Ben Kingsley's Mandarin, but unlike many later-in-series superhero films, the focus is squarely on the hero rather than a flamboyant enemy – the bad guys just give him something to react to.
In case you hadn't guessed, this is a firm recommendation. If you liked earlier movies with Iron Man, there's really no reason not to catch Iron Man 3, it's among the best of the bunch. It may be one of the best third-in-series superhero movies ever, actually – but then, they are often awful. If Robert Downey Jr never appears again in this role – and negotiations appear to be ongoing – this would be a worthy film to go out on. (But I'll keep hoping he signs up for future Avengers movies at least, even if he ditches the solo outings.)