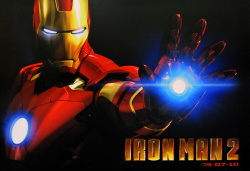 The second appearance of Iron Man comes with added weight to his armour: High expectations. The first Iron Man was a minor surprise hit, converting dork buzz into genuine success through light-hearted yet highly budgeted punching and the perfect casting of Robert Downey Jr as the metal man himself.
With the second go-round, audiences want more, so it better be good, yeah? Well, Downey Jr's Tony Stark is present and correct, still having fun in a way few other superheroes are permitted. Seriously, if Spider-Man enjoyed himself this much, he'd have to lock himself in a cupboard and self-flagellate for hours.
The special effects are still lovely, the action still plays out like a high-speed video game and Mickey Rourke and Sam Rockwell play good villains. Rockwell, in particular, gets the thankless task of playing an unscrupulous equivalent of Stark, putting him in direct comparison with the star of the show, and still steals many a scene with his quirky take on capitalism.
But with all that expectation, it's hard to deny that Iron Man 2 doesn't feel like quite as beautifully formed as the previous attempt. Although Downey Jr is clearly having a good time, and his energy carries the film along, the all-pervading sense of fun that made Iron Man such a joy doesn't quite return.
Not to mention Gwyneth Paltrow, whose chemistry with our hero was another highlight before, now somewhat relegated to nagging girlfriend status. But Don Cheadle's re-cast Rhodey has some great scenes, especially when he encounters the posturing Rockwell.
For fans of the comic, there are a lot more Easter eggs here, setting up trailing strands for that Avengers movie we all desperately want to be brilliant. (Stay tuned after the credits for the biggest one.) For those who don't know or care about any of that, it's possible to ignore them.
But it's glaring how much this feels like a 'mid-season' episode of a TV season, setting stuff up yet not offering huge resolutions. Of course, if we take this as chapter two in a series, with Avengers as the next step, perhaps that's entirely intentional. Still, this movie could be a little unsatisfying when taken on its own.
Still, I'm starting to feel like one of those people who complain about episodes of Doctor Who because they don't have enough references to classical philosophy. It's an enjoyable movie, it builds on the first one, I just wish I'd felt a bit more giddy euphoria. It certainly won't make me any less of a drooling fanboy for the Avengers film.