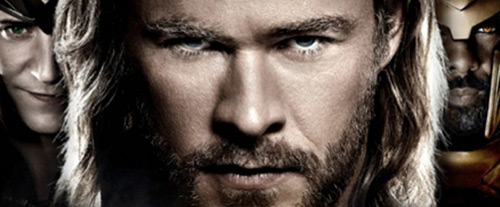 Following in the hissing footsteps of Iron Man, Marvel Studios brings you Thor, their latest attempt to push a lesser-known hero to a wider audience, in advance of his role in next year's Avengers.
But the thunder god is a slightly more fantastical premise than Captain America, Iron Man or Hulk. Can they sell him to the horrible, cynical public? Do they deserve to?
Great Balls Of Thunder
To be honest, I wouldn't have shoved Thor out there on his own, simply because he's such an odd one out. Were I somehow in charge, I'd have featured him in Avengers and hoped he went over well enough to get his own movie. But evidently Marvel execs have bigger balls than me.
And good for them, because this was very entertaining. I was worried at the start, the first half hour is a slow info-dump made up of posturing in silly costumes, although it's a credit to everyone involved that this doesn't come across as entirely ridiculous.
And once Thor arrives on Earth and the actual plot starts, everything is fine. No, it's unlikely to change your life, but the funny bits made me laugh, the serious bits didn't make me laugh and most of the action is chunky enough to enjoy. Not sure what else I could want from one of these films, really.
Brothers And Avengers
Special credit to star Chris Hemsworth; he's new to the action blockbuster but manages to sell the notion of an arrogant god without soaring over the top. Tom Hiddleston, as his brother Loki, is pleasingly ambiguous as well. Those two, as well as Anthony Hopkins as all-father Odin, make the royal intrigue seem meaningful despite the fantasy trappings. Director Kenneth Branagh's Shakespearean roots may have helped there too.
Said fantasy trappings sometimes stumble, I admit. Maybe we've been spoiled by Avatar, but the CG landscapes look a bit videogame at times, though still better than most of Doctor Who. So it's fortunate that the majority is set in middle America, which appears much more realistic.
Thankfully, the Avengers-trailing is nowhere near as blatant and distracting it was in Iron Man 2, but the random Hawkeye cameo remains gratuitous. The post-credits scene was equally indulgent, but that's the ideal place to do it, really.
In short, a fun establishing shot for a little-known superhero, in a similar vein to the original Iron Man. It's not quite as good as that movie, due to a slightly weaker plot and the fact that Hemsworth, though impressive, is not Robert Downey Jr, but it is the best thing Marvel Studios have done since then.