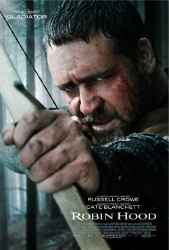 When this Robin Hood movie was first conceived, it was going to be called 'Nottingham', and feature Russell Crowe as a sympathetic Sheriff, tormented by that pesky outlaw. Several permutations later, and after the hiring of Ridley Scott to direct, the project settled into a less experimental state, with Crowe instead playing the eponymous archer.
But they didn't entirely lose the urge to mess with the formula, because this Robin Hood still doesn't resemble any other. This is a prequel, inserting a bewildering mass of strife into the backstory of poor Robin, long before he moves near Nottingham and becomes the medieval equivalent of Swampy.
The resultant movie is a straight sword and horsery epic, with grand sweeping battles involving men roaring manfully and more extras than a tenth anniversary DVD boxset. There are light-hearted moments throughout, but the overall feeling of the piece is deadly serious action, with enough soft moments to stop it being meaningless.
Not that I should understate this achievement. It's beautifully shot, and Russell Crowe can still play the tough-yet-sensitive action hero. Cate Blanchett stops Maid Marion being too much of a wet love interest, and most known characters from the Hood mythos have a decent role. Except the Sheriff of Nottingham, interestingly, who is practically a non-presence. Considering he was originally meant to be the star, he must be a bit put out.
So, if you like the sound of a twelfth century epic with extensive battle scenes, palace intrigue and much talk about duty to one's country, this is worth seeing. Likewise if you are a fan of Ridley Scott and/or Russell Crowe, who are both on decent form here. But if you want a classic Robin Hood film, featuring the charismatic outlaw, you may be disappointed.
Perhaps that would have emerged if this prequel had reached further into the story. There's one sequence, mid-way, in which Crowe and co attempt the redistribution of wealth (well, grain), and it was great. I was quite excited at that point.
But the rest of the time, our hero finds himself battling a French invasion of England, seemingly single-handedly, before he's even done any of the things he's famous for. I know they had to occupy him somehow for two and a half hours of prelude, but this seems a bit much.
I would go and see a follow-up, because this film has convinced me that Scott and Crowe portraying the traditional Robin Hood would be both exciting and gorgeous. On the other hand, I did spend the latter half of this movie consciously waiting for a man in green tights to turn up. Make of that what you will. Now, I'm off to watch Maid Marion And Her Merry Men to satiate my frustrated desires.