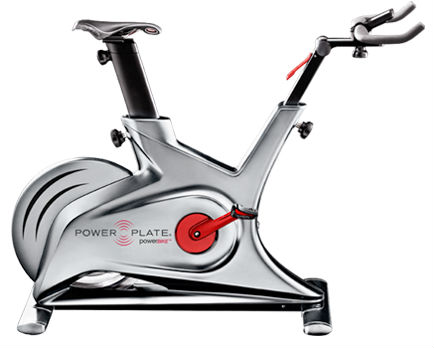 You probably thought the bike was a pretty flawless invention, but the fitness fanatics over at Power Plate HQ have decided to improve it, using the infamous Plate's mechanical vibration technology to up the ante.
Yes, a vibrating bike.
The powerBIKE is the world's first stationary bike to incorporate the pedal and crank system; with every revolution, the technology produces mechanical vibration that generates more muscle activity. So the harder you cycle, the more the bike vibrates, giving your legs a far more hardcore workout than a simple cycle.
Quadriceps work 167% more than in standard cycling; hamstrings are pushed an extra 144%; and the glutes are put through their paces by an extra 138%. That's the kind of maths any gym bunny would love.
Of course, cycling in itself is a great cardiovascular exercise and the guys over at Power Plate haven't forgotten it; you can cycle on the bike as normal if you fancy your usual workout, before a flick of a switch to turn it into the ultimate training companion.
Varying your workout between standard cycling and biking with vibrations will keep your muscles working, your heart rate pounding and also give you a much-needed breather from the powerful vibes when you tire.
Trust us, you'll need it.
PowerBIKE review
Ever the new gadget enthusiast, I tried it out and – once I'd got my breath back – raved about it.
For those who struggle to fit in an hour's spinning class five times a week (how do you guys DO it?) and are left unsatisfied by a quick go on the bike in the gym, the powerBIKE could fix your fitness woes. Just five minutes on the bike with the vibrations switched on will leave even the fittest athlete sweating: it's accelerated training at its best.
Top cyclists across the world are already using it in their training to enhance performance and are loving the results. It's also hailed as a great weight loss tool thanks to the mixture of aerobic exercise and muscle conditioning. Plus, with the powerBIKE and Power Plate deemed a match made in heaven, the pair are the perfect equipment if you are thinking of adding to your home gym. Cardio, conditioning and calorie burning from your own home? We like it.
For just one little machine, the powerBIKE packs a punch when it comes to taking workouts up a notch and we think it's going to be pretty popular with time-strapped fitness fans. It's about time toning got technical…
The powerBIKE retails for £2995 and is available from gymcompany.co.uk and John Lewis.