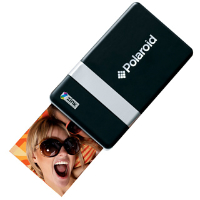 Polaroid cameras were a little bit amazing weren't they? Before the days of digital cameras, Polaroid prints were the ultimate way to see your photo instantly.
Thankfully, Polaroid haven't completely disappeared from our lives. The PoGo Instant photo printer (Firebox, £39.95) brings a little bit of that excitement back by allowing you to easily print your images on the go.
Can it match up to its younger competitors though?
The PoGo is a decent-sized mini printer, only slightly larger and heavier than the average phone. This is a good indication for how big your photos will be. You're looking at a printer that prints 2-inch by 3-inch images. The paper has a sticky side to allow you to peel off and stick the image wherever you like.
The printer can be connected through a couple of different methods. I tried it out with my mobile's Bluetooth setting. All I had to do was pair the device up, and send the images across that I wanted to print.
You can also print them off by connecting a USB cable to your camera, although this doesn't come included with the printer.
No longer do you need to shake your image either thanks to the heat-activated Zink paper (although Polaroid frowned on shaking prints anyway), which means the PoGo doesn't need an ink cartridge.
So, how did it measure up to some of the combined camera and printer options?
Gains points for:
Price. At £39.95 it's a lot cheaper than a lot of the combined options
Convenience. Compact and light, it should fit in most pockets and bags
Ease of set up. The whole thing took 5 minutes to set up and print my first image
Bluetooth connection. No more fiddling around with connection leads.
Loses points for:
🙁 Quality of image. Due to the size and quality of the paper, you're never going to get amazing results out of it
🙁 Storage of paper: The PoGo can only store 10 pages, so you'll have to take extra on a night out.
Conclusion
A fun, simple and inexpensive way to print out your images on the go.
You can buy it from Firebox