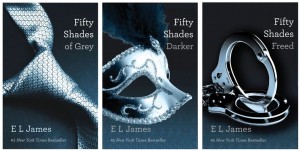 It's approaching a year since the Fifty Shades phenomenon seduced the UK. The nation – and large parts of the rest of the world – was hooked by Christian Grey and his "kinky f*ckery".
Clamped, bound, and teased, we were obsessed with anything Fifty Shades; Myself included. Shelves were ransacked; Twitter went #fiftyshadesofgrey crazy; there was no escaping the juggernaut that was Fifty Shades.
Fifty Shades of Grey – the first novel in the Fifty Shades trilogy – remains the best-selling book in Britain since records began. According to its publisher, Random House, E.L. James' trilogy has sales over 40 million worldwide. A year on and its popularity still inspires reader's; Fifty Shades of Grey is number three on the New York Times Bestsellers paperback trade fiction list, and has been present on their record for a staggering fifty-nine weeks!  If you're perhaps one of the few who still haven't been seduced, the Fifty Shades trilogy is available online at Amazon.
The sex…
Suddenly everyone was openly interested in sex again. Sales of bondage gear quadrupled and even the most naïve girls were asking "where can I get these Ben Wa balls from?" Check out the Fifty Shades Starter Kit on Dork Adore.
Today, the official Fifty Shades adult toys, endorsed by E.L. James, are sold exclusively by Lovehoney. For £24.99 you too can experience an Ana style evening with their Fifty Shades of Grey Inner Goddess Silver Pleasure Balls.  The Fifty Shades of Grey Submit to Me Beginners Bondage Kit is for beginners wishing to attempt a kinky evening a la Christian; although slightly pricier at £54.99 (think of it as an investment piece!).  And, the Fifty Shades of Grey Twitchy Palm Spanking Paddle is sure to replicate many a twitchy palm moments at home – yours for a spankingly good £24.99.
Lovehoney is notably missing a grey tie and ripped denim jeans unfortunately! Find out more about the official Fifty Shades range from Lovehoney on Dork Adore.
Fifty Shades of Suck
Not everyone was thrilled by Fifty Shades, however. As well as getting roundly mocked for its poor literary credentials (see Fifty Shades of Suck for the motherlode) and its dubious potential as a film, a lot of erotica fans were pretty disappointed too, including Dork contributor and erotic fiction writer, Jillian and self-confessed smutty sci-fi addict, Jennifer. Oh, and Katie thought Anastasia's attitude to technology was just plain weird.
The Film…
Only two things are certain so far – there will be a film and Universal Pictures has bought the rights.
There has been no definitive up-date on cast, directors, release dates, scripts; although the internet is rife with stories. All sorts of actors have been named to play Christian – Stephen Amell, Ryan Gosling, Ian Somerhalder – but none are yet confirmed. Actresses for Ana's role have been rumoured to be Nina Dobrev, Emilia Clark, Alexis Bledel and even Hermione from Harry Potter! We can only wait to see; however they have some big imaginary boots to fill!
Who is your Mr Grey? "Laters, Baby"…