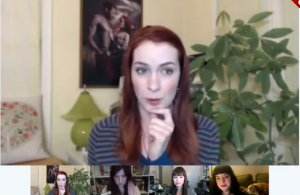 Ever since my good friend bought me a copy of Kresley Cole's "Hunger like no other" as a joke for my birthday I've been hooked on a certain type of fantasy novel.
Now I love hobbits as much as the next girl and don't get me started on rangers from the north, but the stories I'm talking about are less Noble Quest To Save Middle Earth, more Conquer My Throbbing etc etc.
Although I loved the sex in Kresley Cole and I would even argue that the characters and world are well written, I have always found the courtships troubling. There's no doubt that the female characters are strong but the story is still about them being tamed, being won or indeed being conquered. Bo-ring.
Smutty Sci-Fi Addict seeks friends
Now I've never been embarrassed about my reading choices and proudly proclaim myself to be a Smutty Sci fi addict.
However, I'd never really found anyone who shared my love of this genre. It was frustrating not to be able to discuss ideas, criticise plots and all that like you can with most main stream books that your friends and colleagues have read.
Then came Vaginal Fantasy * sigh *
I've been a Felicia Day fan since she appeared in the final season of Buffy, and obviously thought she was amazing in Dr Horrible. Through following her on Twitter I've also got to know Bonnie Burton, Veronica Belmont and Kiala Kazebee; all brilliant, interesting and funny women. And it is to these amazing women that I raise a glass for coining the term Vaginal Fantasy.
Not only that, they run a monthly book club where they get together and discuss said fantasy.
Once a month these guys get together and talk about some truly great (and some not so great but hey, that's what book clubs are about) fantasy fiction which also happens to have quality sex scenes AND strong female characters.
They share my frustrations over the genre and discuss ideas in relation to feminism and great fiction. You can get involved through the forums and Twitter (though it's US-based so this can involve staying up late on a school night) or just watch the videos at your leisure and move on to their next recommendation.
If like me the characters in 50 shades of Grey made you want to commit violence on other commuters on the train in frustration (No? Really? She didn't even know how to use her email!), this is some sexy time reading action you can get behind.
Trust me, you won't regret it.
LINKS: