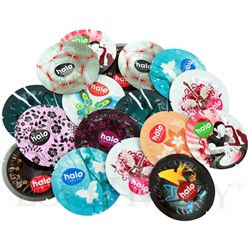 The contraception market is seriously lacking in decent-looking condoms. Admittedly, it's not the most exciting thing to use, but it's pretty essential for obvious reasons.
I came across these Pasante Halo Condoms from LoveHoney a while ago. Each pack comes with 18 individually designed condoms. The wrappers include flocked wallpaper designs, car speed dials and butterflies.
They're £6.99 for a pack.
What do you think about designer condoms? Waste of money or a great way to encourage safer sex?