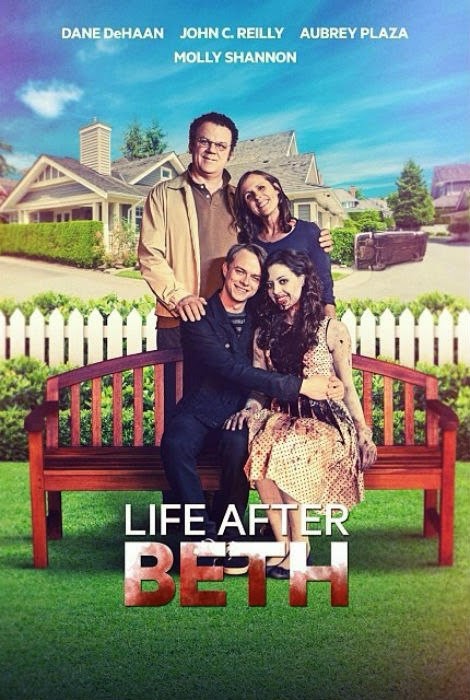 As I mentioned before, October is a prime month for scary movies in all kinds of flavours. If you like your gore with a side of giggle, Life After Beth is right up your street. Up-and-comers Aubrey Plaza (BBC Four's Parks and Recreation) and Dane DeHaan (Chronicle, Amazing Spider-Man 2) star in this romantic comedy with an undead twist. Is it more Shaun of the Dead than Warm Bodies?
Life After Beth
Written and directed by: Jeff Baena
Starring: Dane DeHaan, Aubrey Plaza, John C. Reilly, Molly Shannon, Matthew Gray Gubler, Cheryl Hines, Paul Riser, and others.
Runtime: 89 minutes
Rated: 15
In cinemas now
The story
After his girlfriend Beth (Plaza) is killed by a snake bite while on a hike, Zach Orfman (DeHaan) seeks comfort with Beth's parents, the Slocum's. He visits them, plays chess with her father (Reilly) and confesses that things weren't going that great between them before she died. Everything seems normal, until the Slocum's stop taking his phone calls and refuse to let him into the house.
Angered, and not helped by his family (with his gun-crazy brother and a mother who keeps insisting Zach should see a neurologist), Zach attempts numerous times to find out what's going on. When he eventually manages to break in, he discovers the last thing he'd expected: Beth, seemingly alive and well, with no memory of the past week.
It turns out that soon after Beth's funeral, she managed to dig herself out of her grave and returned home. Although severely confused, Zach is ecstatic to have Beth back. But soon, Beth starts showing strange symptoms (aggression, violence, freakish strength and a sudden, inexplicable love of smooth jazz). And when the dead start coming back to life, all with similar symptoms, Zach is forced to face the fact that Beth might have been better off dead…
So… good film?
Definitely leaning towards the Shaun of the Dead spectrum of the rom-zom-com, Life After Beth is good, but not great. The film is carried by its stars, and Aubrey Plaza is definitely in the running for the new queen of physical comedy. As the slowly zombifying Beth, every twitch, groan and facial expression Plaza gives is on point. Dane DeHaan meanwhile, is a very good leading man, convincing as a heartbroken guy who is given a second chance in the oddest of ways.
There are problems with the story, depending on how you want to look at it. The plot is thinly stretched over its (quite short) running time, and you can't help feeling that expanding the focus beyond just Beth and Zach would have done it well. It's also never explained why the dead are coming back to life; it's just something that, over the space of a week and a half, happens. There isn't any mention of any kind of cataclysmic event, and the only kind of kerfuffle seems to happen away from the story we're following.
That said, the film definitely has its moments, and some of the prize ones come from Criminal Minds veteran Matthew Gray Gubler as Zach's brother Kyle. You can't help wanting more of his specific brand of eccentricity in this film, and one of the best scenes sees him running around the house in a fit of panic with nowt but a towel on and a gun in his hand.
To be fair, I'd be in a fit of panic if my dead granddad suddenly turned up on my doorstep too.
Perhaps it's better that we don't know what caused the events in this film. Life After Beth is all the better for being focussed and small, as opposed to something like Warm Bodies which was grander in scale. It's not at all perfect, but it's worth catching while it's in the cinemas.
Bit of a warning though…after watching this film, you may have a sudden urge to go and listen to some smooth jazz…
Life After Beth is in cinemas now.