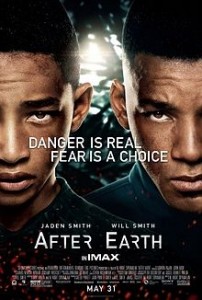 Hollywood has gone Apocalypse-mad, it seems. After Tom Cruise-starring Oblivion and before the quadruple whammy of World War Z, This Is The End, The World's End (which is British, but still) and Pacific Rim comes this father/son two-hander by the Messrs. Will and Jaden Smith. Oh, and it's directed by M. Night Shyamalan, but not that this is of any importance in this one.
Welcome to Earth, but not as we know it.
The Details
Title : After Earth
Directed by : M. Night Shyamalan (Signs, The Sixth Sense, Unbreakable, etc.)
Starring : Will Smith, Jaden Smith, Sophie Okonedo.
Run time : 100 minutes
Certificate : 12A
The Story
In another case of Honey-We-Ruined-The-Earth-Again, an environmental cataclysm forces the entire human race to abandon Earth and venture beyond the Solar System to look for a new home. They eventually settle on a lovely planet called Nova Prime.
One thousand years later (because if you thought that's where the film ended, you're not in luck) the commander of a peacekeeping organisation called The Ranger Core, Cypher Raige (Smith Sr.), comes home after a mission to find that his son Kitai (Smith Jr.) has not passed his Ranger exam. He is naturally disappointed and doesn't really try to hide it.
It transpires that Kitai blames himself for the death of his older sister Senshi, at the hands of a large predator called an "Ursa". Ursas hunt out people by "sensing" their fear. Cypher has learned how to completely suppress his fear, a technique known as "ghosting", thus he was able to lead the Rangers to victory against the Ursas.
As a bit of a bonding exercise, Kitai's mother Faia convinces Cypher to let his son tag along on his last mission before his retirement. His nibs reluctantly agrees and takes Kitai with him on the ship.
And then things go a bit wrong.
As the only two survivors of a massive crash, Kitai and Cypher wake up on what is revealed to be Earth-after-the-Apocalypse, a place where everything has evolved to horribly kill you upon sight. With Cypher seriously wounded, it is left to Kitai to retrieve the only working distress signal from the tail of the ship, which is 100 kilometres away from their current location.
The Father, The Son and The Holy Ghosting
The first three minutes of After Earth are a lot to take in. You're basically thrown into the story, without a life jacket but with Jaden on hand to ram a heck of a lot of exposition in your face. It is loud, it is fast, it is so blatantly not an M. Night Shyamalan film. Oh no, this is very much the Will and Jaden show. Based on an idea Will and his brother-in-law Caleeb had after watching an episode of the (rather excellent) show I Shouldn't Be Alive. Produced by Will, Caleeb and his wife Jada. Starring Will and his son Jaden.
It's a lot of Smith, that's what I'm saying.
The idea of a father and son being marooned in a desolate location is a solid one. Even the idea of that location being in the future is one that can be played with to an extent. And sure, there are good ideas going on in this film, like the concept of ghosting and Cypher's belief-system (telling Kitai that danger is real and fear is a choice). But it is what it is : a 100 minute long introduction to Jaden Smith, obviously being primed to succeed his father in the Legend of Hollywood ranks. And whether that's a good thing remains to be seen…
I enjoyed it, but that was after making the decision to completely ignore the subtext and just let myself be taken along for the ride. The visuals are amazing, there are (possibly unintentionally) funny moments and there is much joy to be had from the idea that nature persists, even though humans are gone.
Go and see it if you…
Like awesome visuals and are game for an evening of not taking it too seriously.
Avoid if…
You think Will Smith has gone a bit power-mad.
More about After Earth on IMDb – Even more After Earth on Lovefilm