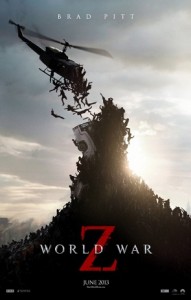 World War Z has had a bit of a journey from book to film. After countless years in Development Hell, and claims that the book was unfilmable, the adaptation of Max Brooks zombie apocalypse classic finally hit screens last month.
Fronted by Brad Pitt, with his production company Plan B backing and a solid cast to back up the leading man, what could possibly go wrong (apart from an actual zombie apocalypse)?
Well….
The Details
Title : World War Z

Directed by : Marc Forster (Monster's Ball, Quantum of Solace)
Starring: Brad Pitt, Mireille Enos, Fana Mokoena, Daniella Kertesz,…
Based on : World War Z – An Oral History of the Zombie War by Max Brooks
Running time : 116 minutes
Certificate : 15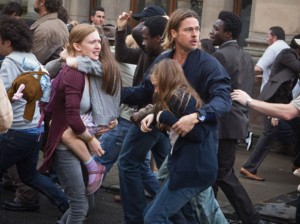 The Story
Former UN ace Gerry Lane is stuck in traffic with his family on the school run. On the radio, reports of a virus outbreak are fast reaching every station. A sudden explosion, accompanied by an equally sudden deluge of ridiculously limber zombies forces Gerry, his wife Karin and their two daughters to go on a run. Gerry gets contacted by his former UN colleague Thierry, who sends a helicopter to the block of flats where they have taken shelter.
The Lanes barely manage to escape, with the young son of the family they were hiding with in tow. On a US Navy vessel off the NYC coast, Gerry gets briefed on just how dire the situation is, and is soon tasked with helping the investigation. If he doesn't oblige, his family will be kicked off the ship.
So, Gerry can't do anything but agree and embarks on a one man mission to trace the zombie apocalypse back to where it started.
So… Good Film?
Let's get one thing straight. If you haven't already gathered it from my plot summary, this is not a straight-up adaptation of the book. Whereas the book is made up of oral interviews with survivors of "the war", the film is very much throwing that entire concept out of the window and pulls the focus entirely towards Brad Pitt's character.
It is very much the Brad Pitt Show, as characters like Karin and Gerry's daughters are pushed to the sidelines in favour of following his heroic quest. Not only that, but competent actors like James Badge Dale, David Morse and Peter Capaldi are barely on screen. Matthew Fox's character's appearance is so brief, it puts a whole new spin on blink-and-you'll-miss-him.
If you ignore the source material, Z stands up as a pretty decent film. There are some genuinely scary moments, and the mid-film set-piece in Israel is the most realistic portrayal of a zombie invasion yet.
But still, it is a massively missed opportunity to make a truly unique genre-film. Most of the talent in the cast is wasted and the grand finale… sort of just fizzles.
See it if… You're in the mood for a semi-decent blockbuster with added zomb-action.
Avoid if…. You're a fan of the book ; you're in the mood for gore ; you're not really too fond of Brad Pitt (because there's a lot of Brad Pitt to take)
More about World War Z at IMDb – More about World War Z at LoveFilm– Buy the book on Amazon UK