You could almost (*almost*) say that 2015 is the year of the spy movie. Between big hitters like Kingsman: The Secret Service, The Man from U.N.C.L.E and, of course, a certain Mr. Bond returning to our screens, Melissa McCarthy and Paul Feig's third comedy team up seems like it could get a bit lost.
But looks can indeed be deceiving – gear up your wallet, get the popcorn and prepare to laugh until it hurts (and for that matter, prepare to be quoting this film for weeks and weeks to come), because here comes the excellent Spy.
Spy
Written and directed by: Paul Feig
Starring: Melissa McCarthy, Jason Statham, Rose Byrne, Miranda Hart, Allison Janney, Jude Law, Peter Serafinowicz and others
Run time: 120 minutes
Rating: 15
Out now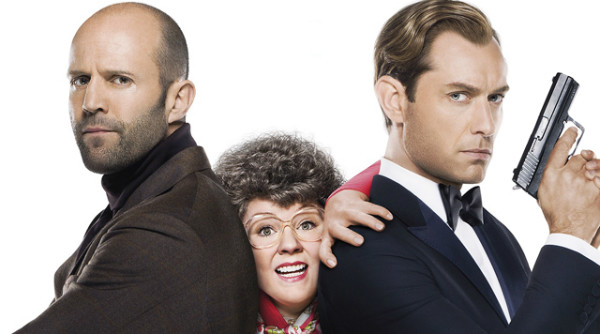 The story
CIA analyst Susan Cooper (McCarthy) is not really getting what she hoped from a career in the CIA – despite being a fully trained and qualified agent, instead of going out there on adventures, she's been relegated to her desk, as the assistant and unseen eyes and ears of her partner (and unrequited crush), Bradley Fine (Law).
But when the swaggering Fine seemingly gets killed on a mission, with Susan watching the terrifying scene unfold from behind her computer, she takes her chance to step up to the plate. With the identity of most of the CIA's top agents compromised and her face having mostly remained anonymous as of yet, she volunteers to take on the mission and find out the location of a dangerous nuclear device.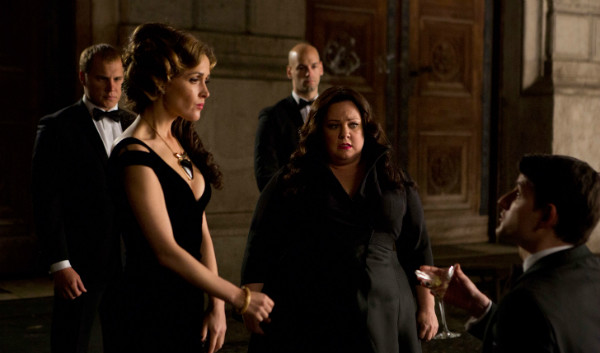 So… good film?
Well, yes. Yes, Spy is a good film. I'll do you one better, even: it's probably one of the best films of the year so far. Are you up for a good belly laugh or two? Spy has got plenty of those. Are you up for some serious feminist ass-kicking from Melissa McCarthy? Well, buckle the heck up, because she's all kinds of amazing in this.
Seriously though, Melissa McCarthy is utterly brilliant in this film. If you think you know what to expect and imagine Susan Cooper to run along the lines of her characters in things like Bridesmaids, The Heat, or Tammy, then you really aren't giving her enough credit as an actress. Sure, there are some deliciously foul-mouthed moments to savour (Susan going off on one against weedy-looking Swedish bodyguard Anton is a highlight) but Susan Cooper is much softer, sweeter and provides McCarthy with probably her most nuanced role yet. You'll find yourself nodding along during her restaurant chat with her best friend Nancy (Miranda Hart, who is absolutely glorious), talking about how she's not getting what she hoped for out of life and her job.
McCarthy is surrounded by a supporting cast which, on paper, sounds more than a wee bit surprising. But as with Susan's story, Spy the film is proof that you shouldn't judge a book by its cover. As mentioned, Miranda Hart is excellent as Nancy, both endearingly daffy and surprisingly badass. Jude Law meanwhile, would like to take this opportunity to remind you that, in another life, he could have been Bond – as proved by the opening sequence (which is in itself a magnificent riff on Bond, credits song and all).
As for Jason Statham… well, if you were already laughing at his deadpan delivery of the "not the car, me, I was on fire" line in the trailer, then you are in for a treat. Proving that he's not above taking the piss out of his own macho-man persona, Statham's legend-in-his-own-mind meathead CIA ace Rick Ford is an unexpected delight. The scene in which Ford, furious that he wasn't given the mission, is sitting in Susan's 's hotel room reeling off an increasingly dubious sounding list of his own past exploits in a deadly serious monotone (including the one seen in the trailer), much to Susan's mounting horror, has yet to make me stop giggling.
Both McCarthy and Statham shine, and seriously Hollywood, give them more roles in which they can do so. And while you're at it, giving Peter Serafinowicz (as Susan's bumbling, amorous Italian chauffeur, Aldo) some starring roles would also be a good thing for all involved, thanks.
Rose Byrne and Bobby Cannavale make decent villains, and Byrne in particular sparks well with McCarthy in their scenes together. Maybe the villains are the only small niggle I have with Spy, as both of them seem a bit under developed, but like I said, it's small.
All in all, Spy is an absolute must-see. You will laugh, you will cry, you will nod in recognition and you will possibly, inexplicably want an Aldo of your own. But most of all, Susan Cooper is more than enough proof that you don't ever have to settle for being the Bond girl.
Get tickets to Spy via Cineworld – Check out the trailer below – Read more film reviews on Dork Adore