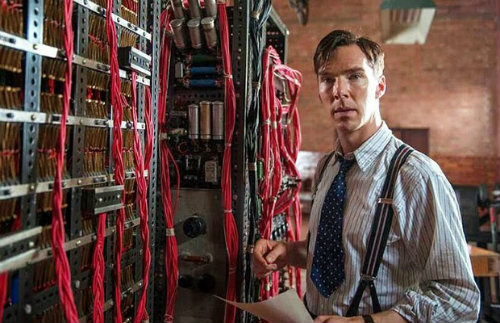 Benedict Cumberbatch has developed a reputation for playing both literary characters and real-life people on the silver screen. He's already tackled the likes of William Pitt the Younger, author Alexander Masters and Van Gogh, not to mention his – rather terrifying – transformation into Julian Assange for last year's The Fifth Estate. And now he's stepping into one of the most important men in British history: World War II codebreaker and computing pioneer Alan Turing in The Imitation Game, which is opening the BFI London Film Festival this October. 
The Imitation Game
Director: Morten Tyldum
Starring: Benedict Cumberbatch, Keira Knightley, Matthew Goode, Mark Strong, Charles Dance, and others.
Based on: Alan Turing: The Enigma by Andrew Hodges.
Runtime: TBC
Certificate: TBC
In cinemas on November 14th, showing at the BFI London Film Festival on October 8th.
What's it about?
In a race against time to successfully decode the German Enigma code, mathematician and somewhat eccentric genius Alan Turing (Cumberbatch) arrives at Bletchley Park to assist the team. Turing starts to work on a powerful code breaking machine, and so becomes one of World War II's greatest unsung heroes. But it is not without its dangers and tribulations, and even his own team sometimes doubts his skills and whether he will help them pull off one of the most daring operations of the time.
See it because…
Benedict Cumberbatch is very good – almost unnervingly so – in crawling into the skin of real-life characters. The first trailer for The Imitation Game proves as much, as while he might not have a similar face to Turing, he manages to completely embody him. Alan Turing himself was a fascinating character, and does not get nearly enough credit for all the things he did during and after the war, so it's a good opportunity to ignite your interest in him and to do some more research afterwards. Other than that, the atmosphere created in the trailer is suitably tense, and the supporting cast looks to be very much on point (personal favourite moment is Keira Knightley's character responding to Turing's announcement that they're going to try to break an unbreakable German code with "…Oh.")
The Imitation Game opens the BFI London Film Festival on October 5th, and will be in cinemas a month later, on November 14th.
More about The Imitation Game: