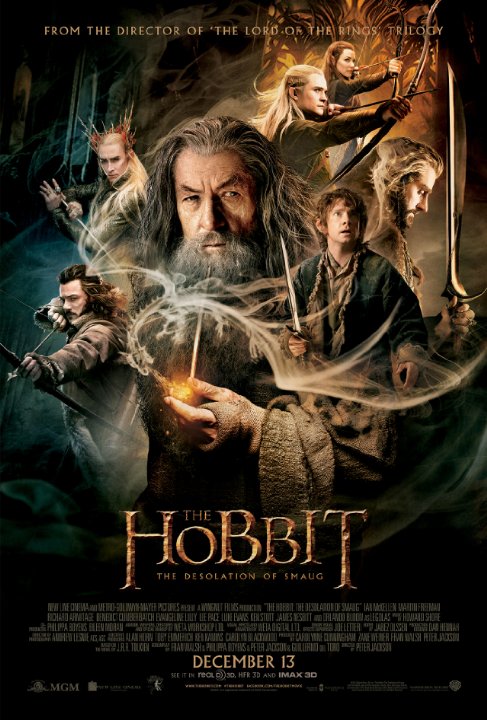 Bilbo Baggins and his company of dwarves return for the second instalment in Peter Jackson's The Hobbit film trilogy. Last time around, there was a lot of setting up and exposition to get through. This time, there's action! Laughs! A totally unnecessary  love story! Legolas! More facial hair action! And a massive dragon who does not appreciate being woken up from his slumber…

The details
Title: The Hobbit: The Desolation of Smaug
Directed by: Peter Jackson (Heavenly Creatures, The Lovely Bones, King Kong, Lord of the Rings Trilogy, The Hobbit: An Unexpected Journey,…)
Starring: Martin Freeman, Ian McKellen, Richard Armitage, Evangeline Lilly, Lee Pace, Orlando Bloom, Benedict Cumberbatch, and others,…
Based on: The Hobbit by J.R.R. Tolkien
Running time: 161 minutes
Certificate: 12A
The story
Picking up not long from where the last film left off, Bilbo Baggins (Martin Freeman) and his company of Dwarves continue their quest to reclaim the Lonely Mountain back from a very angry dragon named Smaug (Benedict Cumberbatch).
This time around, they run from the Orcs, straight into the path of the Wood Elves, led by Legolas (Orlando Bloom) and Tauriel (Evangeline Lilly). Aside from having to deal with their King, Thranduil (a fantastically fierce Lee Pace) and eventually escaping in a way that really only makes sense in this universe (or Donkey Kong, actually), they also run into trouble after they are smuggled into Esgaroth by Bard the Bowman.
Gandalf (Ian McKellen) , meanwhile, abruptly leaves the party without an explanation. He senses a great evil on the rise and meets with Radagast (Sylvester McCoy) to investigate. But what he finds is worse than he could have ever expected.
And with the Arkenstone to retrieve and a very angry (and very awake) Smaug not really willing to give it over to him, Bilbo is in for a very rough job…
So… good film?
A definite improvement on Bilbo and Co's first outing. There is a lot more action, a lot less exposition, and by the time the end credits roll, you'll be left with a feeling of "BUT WHAT HAPPENS NEXT?"
There are a few details that I think it could have done without: although I like the character of Tauriel, giving her a sort-of (and completely random) love story is essentially wasting the potential of a great female character. The fact that Legolas has feelings for Tauriel as well only serves to give him more to pout about.
But Evangeline Lilly holds herself up well in the action, and I hope she gets a bit more to do in the way of that come the next film.
But apart from that, The Desolation of Smaug is a step up from the exposition festival that was An Unexpected Journey. Smaug is exactly as scary as he needs to be, Martin Freeman gives another excellent performance as the very likeable Bilbo and Richard Armitage gives good woobie as Thorin Oakenshield.
All in all, I can't wait for the next instalment. Bring on the action.
The Hobbit Official Website  – The Hobbit: The Desolation of Smaug on IMDb  – See The Hobbit: The Desolation of Smaug at Cineworld