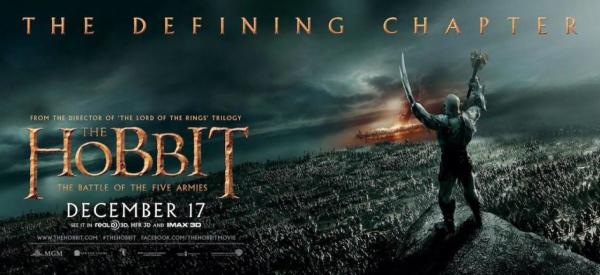 The closing part of an epic saga, dealing with the lives of hobbits, elves, dwarves and men and a quest to save Middle Earth… okay, we've definitely been here before. Peter Jackson brings his Hobbit trilogy to a close, and with it his adventures in Middle Earth, as The Battle of the Five Armies rolls into cinemas just in time for the Christmas box office rush.
But is it a fitting closer to the adventures of Bilbo, Thorin and the company of dwarves? And how, now that The Hobbit is finished, does the trilogy hold up as a whole? Prepare to get mildly philosophical.
Commence review!
The Hobbit: The Battle of the Five Armies
Directed by: Peter Jackson
Based on: The Hobbit, Or There and Back Again by J.R.R. Tolkien
Starring: Martin Freeman, Ian McKellen, Richard Armitage, Orlando Bloom, Evangeline Lilly, Luke Evans, Lee Pace, Aidan Turner, Graham McTavish, Ken Stott, Dean O'Gorman and many, many others.
Run time: 144 minutes
Rated: 12A
Out in cinemas this Friday
The story
After rousing the dragon Smaug (Benedict Cumberbatch) out of his sleep in the depths of the Lonely Mountain, Bilbo (Martin Freeman), Thorin Oakenshield (Richard Armitage) and the dwarves who didn't remain in Lake Town can but watch as an angry Smaug sets upon the citizens of Lake Town with the full intention to destroy everything. Bard (Luke Evans) ends up saving the day – but it's anything but smooth sailings from here on out.
An increasingly isolated Thorin is becoming consumed with gold madness, and an obsession for finding the Arkenstone puts pressure on the group. Meanwhile, various folk hear of the death of Smaug and descend upon Erebor to claim their piece of the treasure. But Azog the Defiler (Manu Bennett) is mobilizing his Orc armies, and soon Erebor becomes the setting for an epic battle that will change the lives of everyone – for better or for worse.
So… good film?
It's kind of a tricky one, this film. Third instalments in trilogies are always tricky to judge because they have to both stand up on their own two feet and be a fitting closer to the trilogy in question. Inevitably, a lot of people will compare Battle of the Five Armies to Peter Jackson's other Middle Earth trilogy closer, the Oscar-sweeping behemoth that was Return of the King.
And whereas King was a rollercoaster of emotional and physical conflict, spread out over a bum-numbing 201 minutes, BOTFA gets the job done in a lean 144 minutes. It gives you what it says on the tin, a ferocious battle between five armies, shot in a way that makes you practically feel every cut and blow. It goes on for a devastatingly long time and by the time the final blow falls, you'll want to have a lie-down as much as I imagine Bilbo would quite like to have one.
Speaking of the hobbit himself, seeing Martin Freeman grow into his role over the three films was a joy. He's quietly dignified, a hero while he'd never call himself that. Freeman is an integral part of the emotional core of BOTFA, and one pivotal scene near the end of the film is done in such an understated way that you'll be left devastated by it.
The other integral part of that emotional core, Richard Armitage as Thorin, is where this film builds its foundations on. Sure, it's still Bilbo's story but Thorin's descent into madness (and eventual feverish epiphany) drives the narrative to its titular conclusion. Whereas Freeman is understated and warm, Armitage gives it his maniacal all. It's intense, and the two complete each other really rather well.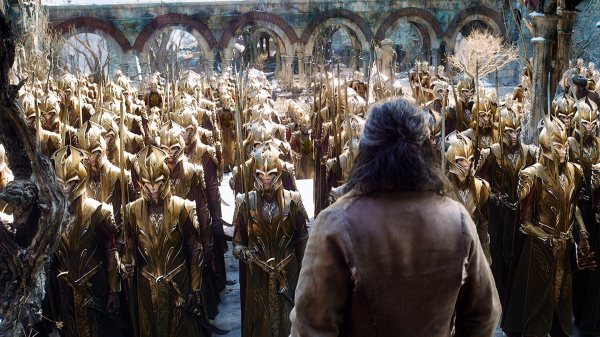 Luke Evans is great as the diplomatic human warrior Bard The Bowman. Lee Pace is positively majestic as elven king Thranduil, descending on Erebor not riding a horse but a huge elk (and it is every  bit as glorious as that sounds) and the moment Billy Connolly rides in on his war pig (yes) as Thorin's cousin and all-round dwarven bad ass Dain is worth a little fist pump or two. And the heartbreaking, brief love between Tauriel (Evangeline Lilly) and Kili (Aidan Turner) will… well, break your heart.
There are however some things that don't sit well in the end.
As the film focusses mainly around the battle, some things fall by the wayside. Smaug is dealt with in the first fifteen minutes of the film. A glorious fight scene involving Sauron, Elrond and Galadriel coming to Gandalf's rescue is just that, one scene. Similarly, Beorn's appearance lasts about three seconds before he's forgotten about completely. There's one particular moment during the action wherein Legolas transcends the laws of gravity to a point where the entire audience at the screening I attended just went "EH?" And the final conversation between Thranduil and Legolas involves a reference to the Rings trilogy that will make your eyes roll so fast, you'll find it hard to focus for a solid minute.
Still, BOTFA is a solid, thrilling film and a very worthy ending to a trilogy that hopefully one day will escape the shadows of the one that came before it. The extended editions, and a couple of years will probably help with it coming into its own, which it deserves because it's a trilogy full of heart and soul. And in ending BOTFA in the way he did, with one very simple ending that does exactly what it needs to (looking at you, Return of the King…) , Peter Jackson's sextet of Middle Earth films feels like it's come full-circle. It's sad to wave a farewell to a universe which we've all come to know so well, but as we leave Middle Earth, may we find comfort in the fact that it will never leave us.
Now, bring on Christmas 2015 and the return to a long time ago, in a galaxy far, far away…
Read our review of The Hobbit: The Desolation of Smaug – More The Hobbit: The Battle of the Five Armies on IMDb – Get tickets for The Hobbit: The Battle of the Five Armies at Cineworld