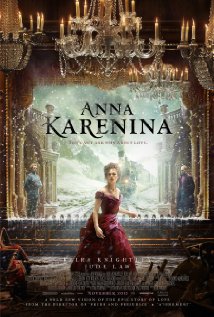 The classic Leo Tolstoy novel gets a swanky new adaptation, courtesy of Atonement director Joe Wright. But is there more to this movie than the stunning visuals? And can Keira Knightley do justice to Tolstoy's tortured heroine?
The details
Director : Joe Wright
Writers : Tom Stoppard (screenplay), Leo Tolstoy (novel)
Starring : Keira Knightly (Anna), Jude Law (Alexei Karenin), Aaron Taylor-Johnson (Count Vronsky), …
Run time : 130 minutes
Rated 12A
The story, for those that don't know it yet
Anna, the young and elegant wife of Russian diplomat Alexei Karenin, is unhappy with the state of her life. During a trip to see her brother Stiva, who is ruining his own marriage by his incessant need to womanise, she has a chance meeting with the handsome Count Alexei Vronsky at a train station. Vronsky is instantly smitten and starts a relentless pursuit. To the dismay of the St. Petersburg social scene, Anna gives in to the Count's advances, and soon her life spirals out of control.
ALL of the Alexei's!
From the moment the film starts, you can't help feeling slightly confused by the visual style. It's filmed as if you were watching a play, so most of the action takes place on and around a stage. It makes for stunning moments, but it takes some getting used to.
Keira Knightley always leaves me in a bit of an internal kerfuffle. She does a remarkable job with the role of Anna, but manages to do it whilst at all times pouting and being… well, herself. Her acting style does grate after a while. But she is picked up by the chemistry between her and Aaron Taylor-Johnson, who puts down a solid performance as Count Alexei Vronsky.
But it is Jude Law who breaks hearts as Anna's betrayed husband Alexei (it's a veritable feast of Alexei's here!). He is understated, calm and menacing, which makes him the star turn of the film.
All in all,Anna Kareninais a feast for the eyes, and will tug at your heartstrings. For a while. Then it will get a bit much.
Anna Karenina on IMDB | Anna Karenina on Wikipedia |   Anna Karenina on Lovefilm