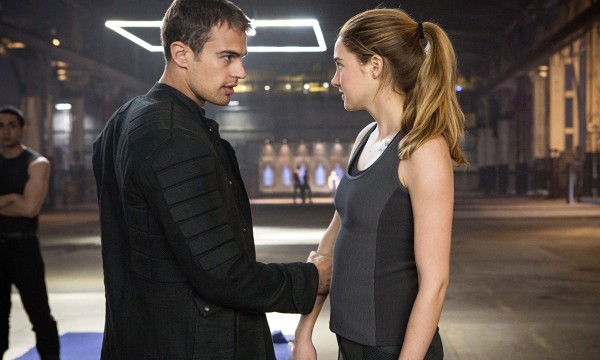 The YA book-to-film adaptation craze is in no danger of slowing down. Next in line: Veronica Roth's Divergent trilogy, with Divergent as its opener. With a strong cast and fantastic source material, surely it's a cakewalk for this first instalment? Right?
Divergent (2014)
Directed by: Neil Burger
Starring: Shailene Woodley, Theo James, Ansel Elgort, Ashley Judd, Kate Winslet, Jai Courtney, …
Based on: Divergent by Veronica Roth
Running time: 139 minutes
Certificate: 12A
Out in cinemas now
The story
In post-apocalyptic Chicago, society is divided into a system of five factions. Based on your disposition, you belong to either Amity (the peaceful), Candor (the honest), Dauntless (the brave), Erudite (the intelligent) or Abnegation (the selfless). 16-year-old Beatrice Prior, born into an Abnegation family, is due to take an aptitude test which will decide the faction she truly belongs to.
However, her test turns out inconclusive, as she proves an aptitude for multiple factions, making her "Divergent". Beatrice is warned not to tell anyone her true test results, and on the day of the Choosing Ceremony, where 16-year-olds choose which faction they want to belong to, she surprises her parents by picking Dauntless.
Soon, Tris (as she renames herself), starts discovering the cracks in the faction system and she finds herself up against some powerful enemies.
So… good film?
The cast is pretty much solid, with Shailene Woodley and Theo James doing a stand-up job of making Tris and Four (Dauntless leader and Tris' love interest) work almost as well as they did in the book. Kate Winslet acts wonderfully against type as the film's resident evildoer Jeanine Matthews (head of Erudite) and Ashley Judd and Tony Goldwyn manage to make a decent emotional mark in their brief screen time as Natalie and Andrew Prior. Jai Courtney, meanwhile, is exactly the right amount of awful bastard you'd want Dauntless leader Eric to be, mainly because he's got a neck like a tree trunk and looks like he could kill you with his pinkie finger.
The film manages to keep the pace up rather well, despite being slow and exposition-y at the start. The exposition is no bad thing however, as it does give a quick run down of the situation to viewers who haven't read the books. For the fans of the book, Divergent the film has plenty of well-realized moments (the fear landscapes, for example) that will make you a happy fan.
A "meh" from grace
However, as is the case with book adaptations, things fall by the wayside. Underdeveloped side plots like Will (Ben Lloyd-Hughes) and Christina's (Zoë Kravitz) relationship may not seem like they'd do a lot of damage in the long run, but fans of the book will know that most of the side plots are more important than they seem. Similarly, Al's (Christian Madsen) plotline is much more explored in the book than in the film, making his eventual fall from grace a bit "meh".
Other characters get next to no screen time or are completely forgotten about, such as Miles Teller's antagonist Peter, who's less of a horrible bully and more of a "boo hiss" bark but no bite kind of guy here. Similarly, Ansel Elgort gets very few scenes to share with his on-screen sister as Caleb Prior, while Amy Newbold as Molly Atwood gets… well, nearly nothing to do.
It's a disappointment of some sort that there wasn't more from the book in the film. Then again, as I said, book to screen adaptations do have things falling by the wayside (see also the entire Avox plotline in The Hunger Games). The cast do make a decent job of it and overall it's really not a bad film. Sequels Insurgent and Allegiant are already in the works. Let's hope that the Desolation of Smaug effect hits this trilogy as well and that Insurgent will be a much richer follow-up.
Side note – for those of you who want more Shailene Woodley/Ansel Elgort screen time, The Fault In Our Stars is not that far off…
Related articles