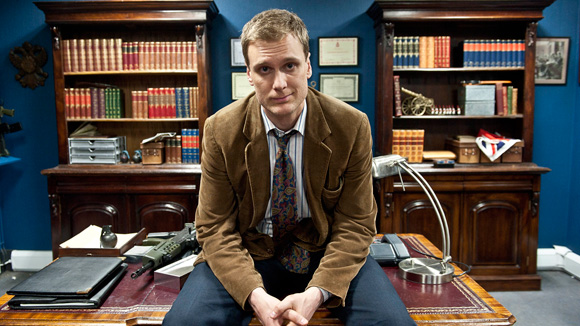 I've been burnt many times before, so when a new comedy comes along that looks promising, I've learned not to get too excited. Perhaps it was that trepidation, then, that ultimately enhanced my enjoyment of a new sitcom featuring Green Wing alumnus Darren Boyd and a My Family-free Robert Lindsay…
With my little eye…
Sky hasn't been known for its homegrown comedy, but it has put a surprising amount of time and energy into changing that recently. Mount Pleasant and Trollied have already aired, and Craig Cash's very-good-looking-indeed The Cafe starts soon; for now though we've got Spy, starring Darren Boyd, with Robert Lindsay making the odd cameo.
And you know what? I really loved it. I know, a Sky One comedy! (It's fine, we're all telly snobs here.) Darren Boyd has been around for years – you'll know his face, if not the name, from Green Wing and Whites – but I have to say I've never taken much notice of him before. But I'm happy to say that he's genuinely brilliant here as under-achieving divorcee dad Tim who stumbles into a job with MI5. His pious, genius son is a great character, and Horrible Histories' Matthew Baynton is really funny and very well cast as Tim's weird best friend.
It has to be said that elements of this felt familiar – I suspect writer/creator Simeon Goulden is a big Spaced fan, and the scene in which Tim disrupts the entrance exam is pure Men In Black. But none of that lessened my enjoyment – Goulden is borrowing from the best there, after all – and I was chuckling throughout. Give it a go.
Razzle Dazzle 'em
It's been in the papers over the last couple of days that Strictly Come Dancing is really holding its own against The X Factor juggernaut in the ratings this year. Maybe that's because there's actually more talent on show over on BBC One – it's a seriously strong year. Jason Donovan's camp tango ruled this weekend, and I love watching Chelsee dance, even if she is generally under-marked. Saturday nights are sofa nights…