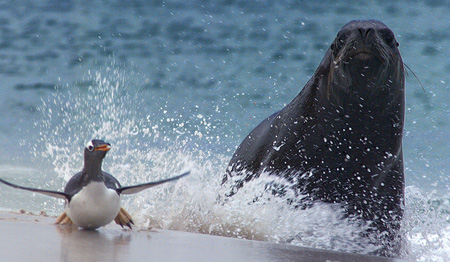 Any regular readers of What We've Been Watching will know that I love few things more than a great nature programme, and you don't get much greater than one led by the unimprovable David Attenborough.
It's a cruel, cruel world…
…but a beautiful one, if BBC One's flagship nature programme Frozen Planet is anything to go by. It's narrated by David Attenborough, it's got its own BBC ident. Was this EVER going to be anything other than superb?
And it really, really is. What I particularly love about this series is that, like the excellent Yellowstone, it shows us things we've literally never seen before. Not the wildlife so much, perhaps, but the scenery itself — those trees completely enveloped in snow from root to tip; the melting ice sheets with 1000 waterfalls in spring; icicle caves so stunning they almost look fake… Staggering stuff.
There are, of course, also the animals and set-pieces we would expect. You can't have a nature programme set in the Antarctic without footage of penguins taking to their bellies to slide into the water, or in the Arctic without a little polar bear cub… well, not making it through the winter.
It's majestic, brutal, funny and awe-inspiring — and it's why we love the BBC.
This week, I have mostly been watching…
…Fast Show Faster online — courtesy of those defenders of British comedy, Fosters. In the spirit of complete openness, I should say that The Fast Show is probably in my top 5 TV shows of all time, along with Blackadder, Spaced and a couple of others that drift in and out depending on my mood. Being *such* a big fan means I couldn't even be cynical about the show's return, especially with the entire cast (minus Mark Williams) back on board, including the wonderful Caroline Aherne.
The result is not, it has to be said, flawless — in fact, it gets off to a decidedly ropey start with a new Ted & Ralph sketch that lacks the beautiful subtlety of the originals. But then, the originals were pretty much perfect. The very, very drunk Rowley Birkin QC is on form though and putting Monkfish into a Downton Abbey-type situation is fun. The trailer suggests that most characters you'd care to mention — from the 'Brilliant!' guy to crazeeee office worker Colin Hunt — will be back, and as long as Charlie Higson and Paul Whitehouse treat them with their characteristic affection, I'll be watching.
I Spy a hit…
And finally for this week, can I just reaffirm my love for Sky One comedy Spy? That, I must say, is not a sentence I ever expected to write, but it is ruddy good. Darren Boyd has physical humour down pat — his over-casual, 30 degree lean while trying to woo his colleague was inspired last week — the dialogue is quick, and there is, surprisingly, something of the surreal about this show. Precocious kid running a mafia-style casino under the guise of a book club, anyone? Funny, silly and brilliantly performed.