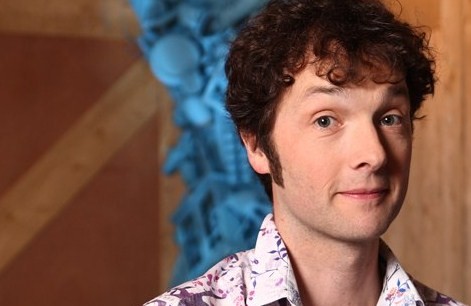 It's not cool to like panel shows, and as a supporter of creative, doesn't-always-work-on-TV comedy, I know I'm meant to complain about the combative, macho atmosphere generated by the likes of Mock The Week. But sometimes, having funny people sitting around being funny is… well, just really funny.
Show, tell, be funny
One new panel show that is actually championing those very same creative comedians that are so loved on the live circuit is E4's Show + Tell. Presented by Chris Addison, it simply invites comics to bring a few things in and talk about them in a humourous way — what's unusual is that the comics aren't the familiar shiny-suit, observational types or one-liner merchants that we're used to seeing on TV.
Take last week's line-up: Maeve Higgins, Nick Helm and Elis James. Excellent comedians to a (wo)man, but hardly household names — and for this, the show is to be applauded. Because they're great! Charming, eloquent and all thoroughly deserving of this airtime, and each contributing to a genuinely lovely show that takes its time. Let's hope for a re-commission.
Still Mocking the weak?
As for Mock The Week, it is worth saying that this is a very different show to the one that appeared on our telly-boxes a few years ago — when I think the bear-pit comparisons were appropriate. I really liked Frankie Boyle's spiky contributions, but the programme-makers have been wise to go with Chris Addison (him again), who brings well-informed silliness, as a permanent panellist, rather than trying to find a direct replacement. And yes, a few more women on the show would be nice.
Doctor Spanx will see you now
Much, much more heart-warming though — and just plain funnier, I'd say — is BBC One's Would I Lie To You. The show gets a lovely mix of guests but at its core is the genius idea of pitting David Mitchell and Lee Mack against each other as team captains. The highbrow vs lowbrow, South vs North dynamic is endlessly entertaining, and they are so quick, so sharp. I laugh out loud every week.
And in this latest series in particular, the producers seem perfectly happy to throw in a few lies per episode that are so utterly unbelievable that the guest can just have fun with it without being shackled by the need to make it sound plausible. A well-told, utterly convincing lie is impressive; a ridiculous one can be hilarious. Enter the supreme David O'Doherty, charged with persuading the opposing team that he is seeing a hypno-therapist to get over his addiction to hypno-therapists. THIS, ladies and gentlemen, is entertainment…