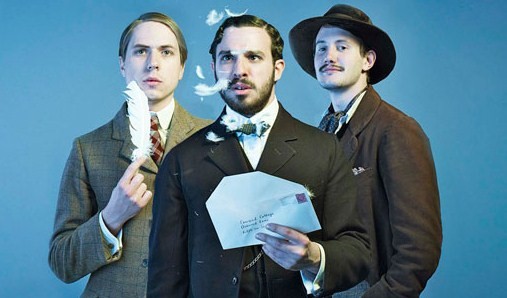 You can't fault Channel 4's commitment to new comedy. Every year they try out a bunch of pilots in a primetime slot in their Comedy Showcase strand, and over on E4 that's backed up with slightly more left-field offerings in Comedy Lab. So how did the first of this year's crop, Chickens, fare?
Inbetweeners Goes Forth?
Much like Peep Show, it's understandable that some people assume that the stars of gross-out-but-sometimes-oddly-sweet teen sitcom The Inbetweeners — Simon Bird, Joe Thomas, James Buckley and Blake Harrison — actually wrote the show, as they seem to fit their characters so well. Not so, however — that honour belongs to (Damon Beesley and Iain Morris) but Bird and Thomas are in fact pretty experienced comedy writers, having performed (and impressed) at the Edinburgh Fringe with their show 'The Meeting', created with award-winning stand-up comic Jonny Sweet.
For Chickens, these three have got back together and produced a properly entertaining half hour pilot in which they play the only three men left in a pretty Heart-of-England village during the First World War. They each have their reasons for staying behind: Cecil (Bird) isn't allowed in the army on account of his flat feet, teacher George (Thomas) is a conscientious objector and Bert (Sweet)… well he just finds it difficult to remember there's a war on, what with all the girls (and women, and old ladies) of the village distracting him the whole time.
There was an element of farce about this — Cecil ends up accidentally peeing on a tree planted in remembrance of a dead soldier — but as with so many sitcoms, Chickens actually works best when it's just the three leads chatting and bickering. Jonny Sweet, I think, pretty much steals the show. As a self-centred lothario, he's simultaneously incredibly creepy and massively watchable — here, as with his stand-up, it's his delivery that makes him so much fun. All the best comics can make an apparently simple word sound hilarious and Sweet is no different. Just take a listen to how he says the word 'crow'.
Saturday night with Jonathan Ross
I've always been a Wossy supporter. Friday Night… was great fun, and his Saturday morning Radio 2 show was superb until Sachsgate meant the Beeb stopped it going out live. What's the point if there isn't that little element of danger? Boring. So I'm very glad indeed he's back on the telly — but Jonathan Ross on ITV1? It feels odd, doesn't it? Although he does seem to enjoy saying "we'll be back after these messages", like he's some American TV anchor from the 1950s…
There are some superficial changes to the format (neither the 4 Poofs nor their piano have made it to ITV) but basically this is the same Jonathan Ross chat show we're used to, and if you liked it before and can stand the adverts, you'll still like it. He was funny, he made a few slightly naughty comments, he fawned over his guests. It was business as usual. Welcome back.