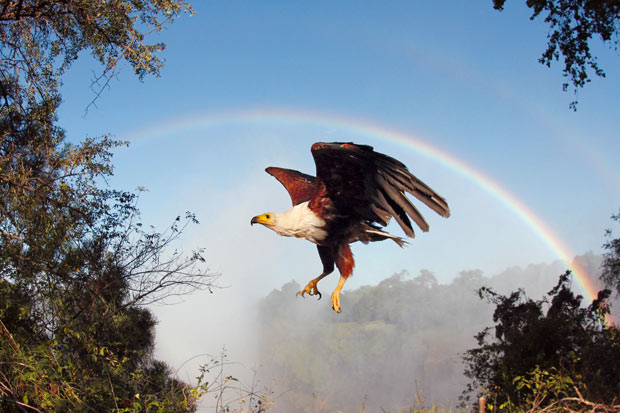 These last couple of weeks have been a real treat, telly-wise. Nick has already taken us through the first episode of Sherlock 2.0 (here), so let's now celebrate a few other gems: BBC One's latest flagship nature programme, Earthflight, the excellent adaptation of Dickens's Great Expectations, and the very funny Horrible Histories Prom.
On the wings of a dove (and snow goose, and pelican, and…)
There are some shows which have clearly been made with HD in mind and Earthflight is, I'd suggest, certainly one of them. This new series from Aunty Beeb — and narrated by the fabulous David Tennant —  follows a bird migration across a different continent in each episode, and with North America and Africa aired so far, I'm already pretty confident in saying there's unlikely to be a better nature programme on this year.
As with all great nature programmes, the main joy of this series is that you get to see behaviour that you never knew existed. The focus is, of course, on birds, but following a migration means we're given their unique view of other animals thanks to some hugely impressive photography and camera-work. There's no "making of" feature at the end of the programme, but there's clearly been a microlight used along the way, and some cameras actually strapped to the birds themselves too — and this all makes for some pretty astonishing footage.
In the first two episodes we've seen a baboon hunt down a flamingo, grabbing it out of mid-air as it tries to fly away; swallows swooping to a take a drink of water without breaking their flight and this, undoubtedly the moment of the series so far, in which we see rays jumping out of the water and flapping their "wings" as if trying to fly:
Expectations met?
Despite having taken a specific Charles Dickens module during my English degree, it appears I was the only person to sit down to watch the BBC's new adaptation of Great Expectations without knowing exactly how the story was going to play out. (But you can ask me anything on the all-too ignored Dombey and Son…) This ignorance probably put me at an advantage, but it seems that, a minor "style over substance" backlash aside,  even those more in the know than me still found plenty to enjoy.
This production certainly did have a lot of style — Miss Havisham's crumbling Satis House in particular was a triumph in design and atmosphere, and the opening scenes out in the Fens were beautifully shot — but there was more to it than looks.Yes, Pip may have been impossibly pretty, but Douglas Booth can act too, and the kid playing his younger incarnation, Oscar Kennedy was superb. Plus, Gillian Anderson was typically great as an ethereal Miss Havisham, and her death scene was impressively handled.
There are always going to be complaints when elements of a much-loved novel are left out, but I thought that this was a neat and well-paced, enjoyable adaptation with a top-notch cast. Sheer class, all in all.
"Duchesses, actresses, the great loves of my life…"
It has been on before, but the New Year showing of the Horrible Histories Prom gave me my first opportunity to watch it, and it was genuinely one of the most entertaining 90 minutes of TV I've seen in ages. The songs are catchy and informative, and the little sketches written and performed especially for this one-off event were wonderful. The whole thing was a proper joy from start to finish, in fact.
I could pick any number of highlights, then — Mathew Baynton's (Spy) Charles II rap is hilarious; the Viking soft-rock anthem Literally blessed with a brilliant central idea — but the stand-out performance for me came from the very talented Jim Howick as George IV, forced to wait and wait for his time to shine: