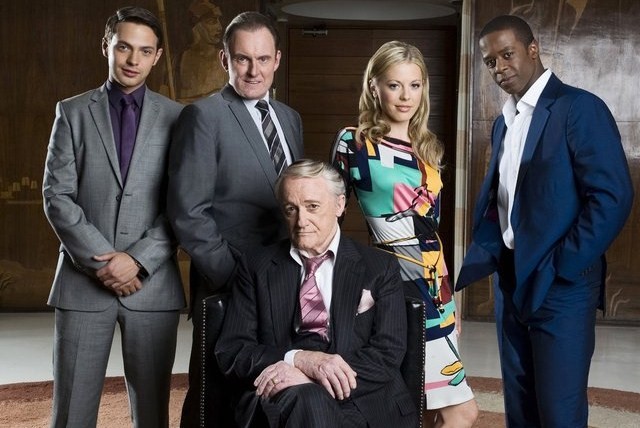 Downton Abbey or no Downton Abbey, BBC One is still the go-to channel when you're on the look out for classy, good-looking primetime dramas. And in the past week, a couple of the most entertaining have graced our screens, as we waved goodbye to the long-con kings of Hustle, and welcomed back the inhabitants of the Upstairs Downstairs house, on the eve of war…
The con is… off
It got a bit of stick for being silly, but there's nothing wrong with that, and in any case silly is precisely what Hustle has always done so very well. And never more so than in the latest and final season, which particularly embraced all the aspects of the show that its fans love — the winks to camera, the elaborate cons, the triple-bluffs and ridiculously hateable marks.
It was all turned up to 11 this series, and I really enjoyed it. The key, as ever, was a hugely likeable and talented cast having a ball, and while it took us some time to get used to Jaime Murray and the brilliant Marc Warren's replacements  – Matt Di Angelo and Kelly Adams – they actually fit in pretty darn perfectly.
That's not to say, however, that (spoilers for the final episode ahead) those of us who have stuck with the show for eight seasons didn't hold out a little hope that Stacie and Danny would make a final appearance. And of course they did — much as Warren tried to throw us off the scent on Twitter; eventually greeting his surprise cameo with a tweet that simply read: "never trust a con man." Entertaining, inventively shot and with that great breaking of the fourth wall, I certainly won't be the only one to miss this bunch of lovably work-shy, shameless career criminals…
A look at life above and below stairs? It'll never work
This new series of Upstairs Downstairs may be lacking two great TV characters played by two great TV actresses – Jean Marsh as Mrs Thackery and Eileen Atkins as Lady Holland – but that doesn't mean there's not a lot of fun to be had here, what with a pompous butler being condemned for his love of peace, a gas-proof pram being disastrously tested out on a poor monkey, and (best of all) a Nazi-sympathiser in the family.
As there were no gas attacks in Britain, it's easy to forget that those masks were given out for a reason, and this episode did a neat job of reminding us just how scary it must have been to face the prospect of such an horrific event actually taking place. Elsewhere, Lord Holland was doing a pretty bad job of advising Chamberlain against appeasement, and a pretty good job of kissing his sister in law, the aforementioned 'black sheep'. I can't imagine his wife will ever find out, though…