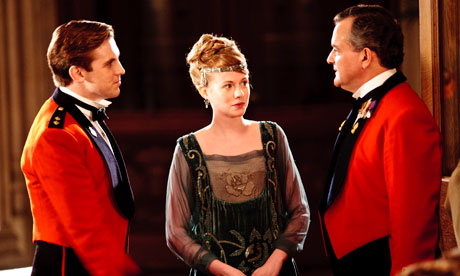 The last time we spent time at Downton Abbey, the residents were reeling at the news that war had broken out – an announcement that rather put their squabbles over who would inherit the estate into perspective. For the second series we meet them all two years on, and with most of the men of the house both above and below stairs doing their duty on the front line, how are Lord Grantham, Lady Mary et al coping with a rapidly changing world….?
It took me a while to get into Downton Abbey — the first episode was really pretty dull and apparently I was meant to like Lady Mary, even though she was positively *beastly* to lovely Dan Stevens… I mean, Matthew Crawley. Obviously. But then it all went a bit melodramatic and ridiculous — a Turkish diplomat found in Lady Mary's bed, 'good' and 'bad' characters drawn broadly (apart from Lady Mary herself, perhaps, and Maggie Smith's delightful Dowager), secrets, rebellion… ah, that's more like it. Just like a frankly massive 10 million others, I was hooked.
The ITV Juggernaut
Now it's back, a major part of ITV1's unbreakable dominance of weekend telly along with The X Factor and Jonathan Ross's new (but not terribly different) chat show, and once again, it is much more concerned with entertainment than subtlety. Take the scene in which we met the honourable Mr Bates's estranged wife, er Mrs Bates (ok, Vera). Can you remember a more pantomime villain appearing on your TV screen lately? She might as well have been twirling a moustache and tying poor Anna to some train-tracks. It was not, I think it's fair to say, a highlight.
There were some nicer, more satisfying scenes elsewhere though. Matthew Crawley, now part of the officer class at the Somme, returned to Downton with a sweet fiancée (the fabulously-named Miss Lavinia Swire) in tow, and Lady Mary — whom I have warmed to, of course — is putting on a brave face. Michelle Dockery portrayed this quiet heartbreak beautifully, and Stevens managed to be blithely charming while completely missing the turmoil that she was going through. Their scenes were superb, and it'll be interesting to see what skeletons Miss Swire has hidden in her no-doubt elegant closet (they're there, mark my words).
Meanwhile downstairs…
…it was quite heartening to see that even mean old Mrs O'Brien didn't like new girl Ethel Parks, a maid who spends most of her time complaining about what she sees as terrible conditions at Downton, and dreaming of becoming a Hollywood starlet. Plus, the relationship between lovely William and Daisy seems to be getting somewhere, though whether she's just feeling sorry for him… we'll have to wait and see.
It's over the top, even silly at times, but then it suddenly floors you with a brilliant witty line here, a lovely scene there. I've no doubt that series two be a rocky trip, but it's one I'm looking forward to.