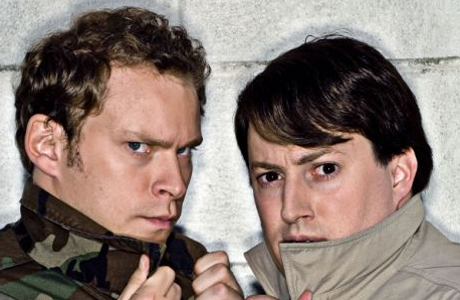 To misquote Helen off Big Brother, I like laughing I do, and thanks to the box in the corner, I did quite a lot of it last week. BBC One's Saturday night comedies Walk On The Wild Side and Armstrong and Miller continue to be consistently wonderful, but this week it was the return of Peep Show, now in its seventh series, that really warmed the (very chilly) cockles.
"Terri-brill"
The received wisdom is that comedies shouldn't run for long: 'Fawlty Towers only ran for two series' is the dullard's cry. In fact, lots of long-running shows kept their quality — they change undoubtedly, but not always for the worse. Friends is a good example, it had a series 6/7 dip, but came storming back towards the end and lost the over-sentimentality of the first couple of Ross and Rachel-obsessed seasons. Thank goodness the writers of Peep Show did not succumb to the myth — they've kept going series after series, and I genuinely think it has got better over time.
The first episode of this series was an absolute winner, and even allowed a little emotion and optimism into proceedings (not often present in the show, it has to be said) with Mark's baby entering the world just at the moment that he also discovered that the broken boiler back in his flat had only caused 'minimal water damage'. Heaven. Of course, he had spent much of the birth in a nearby games arcade, and Jez was chatting up a girl whose boyfriend was in a coma, but get past all that and this was Peep Show at its absolute sweetest. And, as ever, the turn of phrase in Mark and Jez's slightly messed up minds was inspired.
"Alan! Alan! Alan!" Repeat to fade…
There aren't many scripted programmes that can genuinely claim to be proper family entertainment — your Strictlies and X Factors dominate the market these days, although there's still a corner for a bit of family fantasy, with Doctor Who, Merlin, and the soon-to-return Primeval. BBC One's Walk On The Wild Side does the trick very nicely however, and I'm not sure it really gets the credit it deserves.
For the uninitiated, it's the brainchild of Jason Manford, and does for animals what Animal Magic did for… well, animals. Yes, it's essentially Animal Magic in the jungle (and savannah, and underwater) but thanks to a fine voice cast and writing team packed with great comics including Jon Richardson, Sarah Millican, Alex Horne and Manford himself, it carries off a really charming mix of the silly, clever and actually-quite-bizarre.
Laugh-out-loud Chekhov
He's not really known for his gags, Chekhov, but Sky Arts' more 'highbrow' station, Sky Arts 2, has been on a mission to show us that the Russian playwright was actually a fun kinda guy, by screening half-hour adaptations of his shorts starring comedy actors including Mathew Horne, Steve Coogan and — in the particularly impressive cast of The Bear — Julia Davis, Julian Barratt and Reece Shearsmith.
It's a comedy super-group! Yes, Nighty Night, The Mighty Boosh and The League of Gentlemen came together for this, and while it didn't perhaps hit the heights of those modern classics, it was a hell of a lot of fun. It was hard not to be a little distracted by the incredibly stagey direction, but it was hard not to get excited at seeing real-life couple Barratt and Davis performing together as a pair of quarrelling strangers who find themselves attracted to each other, and their huge capacity for subtle comic acting was put to great use here.
Next week, I brush up on my German art (ahem) and Frankie Boyle finds his spiritual home in Channel 4, with his sketch show Tramadol Nights.