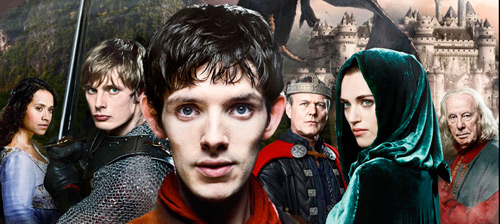 Before the brand new series of Merlin kicked off this weekend, Nick gave us his suggestions for what he'd like to see. Has series three delivered?
The third series of the BBC's Merlin is underway, and you could cut the excitement with a massive jousting implement. The Arthurian version of Smallville has managed to join Doctor Who in the ranks of shows that the whole family and the internet nerds can enjoy together.
But what do we want to see in this third year? Is it time Arthur and Gwen stopped flirting and had at it? We've got a list here of five things the Merlin creators can do to ensure a brilliant series. And the fact they can't possibly take them into account at this late stage is utterly immaterial.
Progression!
It's not just me, is it? It's finally time for the story of Merlin's secret to take a flying leap forward. How many near misses can he have before the selective amnesia becomes unconvincing? At the very least, time to share the secret with Arthur. The legendary future King of Camelot is starting to look a bit thick for failing to notice something might be amiss.
Less Panto!
This is a tricky complaint, because this is a family show. They have to play to all audiences and children are a big part of that. But the troll two-parter last series nearly put me off the series permanently with its cesspool of fart jokes and paper-thin plot. On the other hand, maybe the kids loved that one. It's a hard tightrope to walk.
Strict Acting Direction!
There are some odd swings in thespian quality in Merlin. Bradley James as Arthur, though excellent most of the time, is sometimes struck by some magical malady, becoming freakishly wooden. It's unsettling to watch. Katie McGrath, aka Morgana, has shaky moments as well. Keep them in line, someone.
Restrain The Mythology!
Although I'm sure it's tempting to write intricately woven episodes which delve into the mythos and push us closer to the inevitable climax (Arthur becoming King and Merlin, um, somehow becoming much older than him and growing a beard), I think the stand-alone episodes with celebrity guest stars are a big part of Merlin's appeal. And yes, I'm aware this could contradict my desire for progression.
More Of The Same!
I don't want to just reel off a list of complaints. With a few exceptions (afore-mentioned troll episode, mainly), the quality threshold on Merlin has been really high. As long as they give us more stories by the same people, featuring the same cast in a good balance, I'll probably be happy. And resist the temptation to go "dark" and feature extensive whining, that'd ruin it.
In short, I'm excited. There should be a review of the first episode up here on Dork Adore, so stay tuned to find out whether it lived up to my expectations. In the meantime, let everyone know your series three wish list below.