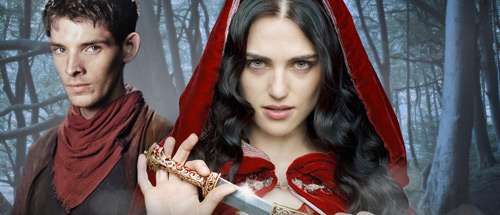 After a couple of weeks sneering impotently behind the King, Evil Morgana finally strikes in this week's Merlin. Things take a turn for the even worse when our gangly hero makes a schoolboy error: paying heed to a bearded stranger spouting prophecies in the woods.
So it's a serious outing this week, minimal comic relief. There is a tumbling pratfall down some stairs, but even that is only a source of bigger drama. You can see The Crystal Cave yourself on BBC iPlayer if you don't believe me. But were we excited?
Oh Morgana! What A Big Knife You Have!
As showcased in the trailer last week, the main event of this week is Morgana finally donning the Red Riding Hood-esque cloak of Evil and skulking around the castle doing wicked deeds. It's good to see her getting out there and actualising her potential, as a whole series of dark threats would've gotten old. And there's a revelation here that will certainly play into her future appearances.
No, they are not yet shattering the status quo completely, I imagine they're holding off on that until the last episode of the year. But there's a sense of progression, a pleasing feeling they are going somewhere. I half-expected this episode to undo itself via magic or time travel, happily this was not the case.
It wrapped up whiplashingly quickly though. I starting preparing for a cliffhanger ending when the final part of the prophecy came to pass with minutes remaining, only for Magic-Boy to save the day in thirty seconds flat.
Prince Arthur: Amnesiac Or Just Plain Rude?
Early in this broadcast, Arthur says to Merlin that he might be right about something, "for once". Now, I suspect our young Prince has said this a lot, possibly every week. Soon, surely he'll remember that Merlin is nearly always right?
That aside, this is quite a heavy week, the third out of five so far to go this way. I suppose that matches threats made at the start of the year that this would be a "dark" series of Merlin. Certainly, everyone has their serious face on; Arthur even dispenses with his usual topless scene.
I'm enjoying the main story arc, helped by the always-great Emilia Fox, so as long as I don't start wanting to self-harm after watching an episode, more power to them. Helpfully, it looks like we'll get a fun interlude next week, as yet another member of the cast experiments with inter-species "relations". For now, though, let us know what you thought of The Crystal Cave.
More Merlin On Dork Adore | Merlin: Gwaine – Dork Review