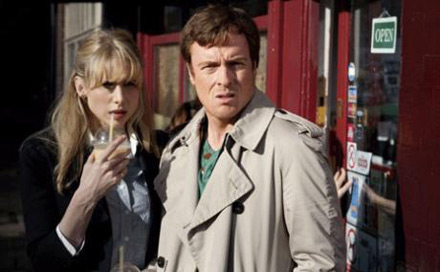 Admittedly, the BBC's Vexed doesn't contain any aliens, super-powers or other geek talking points. It's a cop show, about a pair of mismatched partners and their attempts to solve crime, swinging towards the blacker comic end of the comedy-drama scale.
If I had to compare it to any existing geek fare, it would be Life On Mars, albeit with all the implied time travel extracted. I'm bringing it to your attention because Vexed is written by Howard Overman, who also scribed the award-winning Misfits. So, is his take on the police as good as the acclaimed super-swearing show?
Is it really about police work?
Let's be clear, I enjoyed this a lot. It didn't make me think or cry, but did leave me grinning from ear to ear. In a world where people often die in agony, that's more than enough. It attempts to blend comedy, satire and even police mystery-solving in a way that isn't seamless, but does create something unique.
Comparisons have been drawn with Green Wing, the surrealist hospital sitcom, but I don't think the police work in Vexed is quite as irrelevant as the medicine there. In fact, the mysteries have more than enough twists to carry an hour, before they even lay on the comedy.
What's the opposite of a critical darling?
So I liked Vexed, Twitter reception seemed broadly positive, but many disagree. In fact, googling the show after watching the first episode, I was alarmed to find that only The Guardian gave it a positive write-up. Other journalists thought it was clunky, silly and full of childish humour.
But the lines they cited as being clichéd and rubbish, I found amusing. ("They had so much in common… he loved cats…" "What, the musical?") Yes, the performances by the leads, Toby Stephens and Lucy Punch, occasionally veer into panto, but it works because the rest of it is silly enough, and they manage to rein it in for the serious bits.
Alone with The Guardian, I conclude
Anyway, it may not be following Misfits into the BAFTA winners' enclosure, but I thought Vexed was a great, fun series with a healthily large sense of its own ridiculousness. And, much like Sherlock, we're only getting three episodes, so enjoy them while they last.
You can catch the first two episodes of  Vexed on the BBC iplayer, with the third to follow this weekend.
Watch them, love them, comment below and let the world know whether you agree with me or, um, the majority of critics.