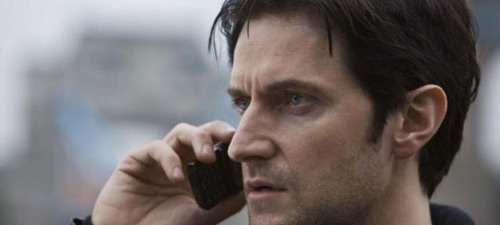 This is what we've been building up to for the whole ninth series of Spooks. Lucas North's nervous breakdown finally hits critical mass, and Harry has to wrestle with the fact that "John" simply isn't an exciting enough name for his section chief. Meanwhile, incredibly, there's time for a whole other case elsewhere.
But this is mostly about resolving six episodes worth of hinting and mumbling, so expectations are high. Did the Spooks team live up to them?
Evil John And The Black Armband
I wrote a few paragraphs in last week's Spooks review about the mysteries surrounding Lucas North, and many of them are explained this week. Perhaps. It's strongly implied towards the end that Lucas was not a reliable narrator, perhaps unknowingly so.
To be honest, I'm not taken by the idea that Lucas has some long-dormant nasty personality ("Evil John"?) that is now emerging. His declaration at the end of the episode implies that is where they are going, but I live in hope that it's a bluff. Regardless, he seems too far gone for rehabilitation. I have prepared my black armband for a big Lucas/John death scene next week.
Oh, and I'm not sure they've convinced me of Lucas/John's love for this "Maya" woman. I keep forgetting she exists whenever she's off-screen.
Poor Lucas, Upstaged On His Big Day
But although the headline news is Lucas and his strange olden days haircut, he comes close to being upstaged by a secondary plot involving Ruth and a man who works for the council. I kept expecting it to dovetail with the main storyline, but it remained separate, seemingly thrown in to give characters other than Lucas and Harry something to do.
Which makes it sound cursory, but the climax of this subplot is one of the most intense scenes we've had on Spooks for a while. Kudos to Nicola Walker, playing Ruth, for unleashing some raw emotion, as well as her speech in the follow-up scene. All very good, and I note Ruth was in peril again during the trailer for next week, so perhaps all that is leading somewhere.
In short, another good episode, although whether I remember it fondly will depend on how they end it next time. I'm hoping they pull back on the Lucas/John personality change angle, myself. So, see you back here next week for one last Spooks review, and in the meantime, do check out the episode on iPlayer and comment below with any thoughts on the likely outcome.
More Spooks on Dork Adore | Spooks: Series 9, Episode 6 – Dork Review