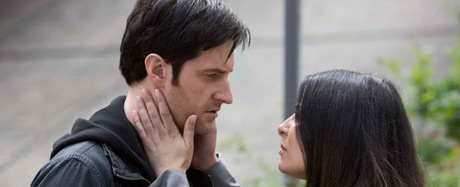 After eight nailbiting episodes, the BBC's Spooks has ended its ninth series. Former lead spy Lucas North has finally flipped, and when someone goes round the bend in Spooks, they don't just sit in their room making obscene paper dolls.
No, Lucas leaps straight from handsome hero to rogue agent and treasonous terrorist. Is it the hand-wringing action epic we've all been hoping for? (Oh, and caution: I may spoil, or at least imply, the ending of the episode. Watch it on iPlayer before reading.)
Lucas North – Man Of Action
They've been trailing this Lucas/John storyline since the first episode of the year, so the finale had to be a super-dramatic event. And sure enough, I was glued to my little plastic seat, waiting to see who might die, only sometimes noticing that surely this ridiculous plotline doesn't make much sense.
As well as Richard Armitage getting a workout as Lucas, Peter Firth ended up really going through it this week. His Harry Pearce is the beating heart of Spooks, and it always feels tense whenever he's in danger. To be honest, the bulk of the episode was a back and forth between those two, somewhat to the exclusion of almost every other character.
The exception being Ruth, who would never be left out of a Harry-focused storyline. And she was good too, though she didn't steal the show like she did last week.
The Bigger Picture (Look It Up, Harry)
So, an exciting ending. I'd have liked a little more clarity on the final fate of Lucas, and some of the contrived spy schemes would surely have required psychic powers to actually work? Especially the one where Lucas enacted a plan that relied on Ruth going out to a field operation, something that doesn't often happen. Oh, and Lucas was suspiciously well equipped for a rogue agent.
Of course, by far the most exciting news is that my Spooks Series Nine Death Pool was amazingly close to being correct! So, um, I wouldn't click on the link to that unless you've seen the episode, as it may constitute a spoiler even though I wrote it in September.
And finally…
Coming a close second in the news stakes was the snazzy post-credits trailer announcing that there will be a series ten. Which leaves us with questions, such as: Will the cliffhanger of this episode really take out Harry? Is this Alec chap a new regular character? Whatever happened to Beth's "shady past"?
Leave your answers in the comments below, along with your thoughts on the episode and whether it lived up to your expectations. And thanks for reading and commenting on the reviews this series, everyone. It's been fun.
More Spooks on Dork Adore | Spooks: Series 9, Episode 7 – Dork Review