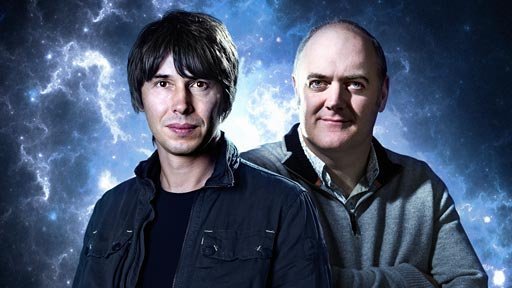 This week I "marvelled at the majesty of the night sky" with Dr Brian Cox, finally got the bug for The Office: An American Workplace, and learned all about generating ad revenue with comedy web series Partners in Pretension. Busy week…
Spacewatch
Following the success of last year's Stargazing Live mini-series, I don't think there was ever any doubt that it'd return, and — understandably and correctly — the producers have seen fit to keep the format pretty much identical. Dr Brian Cox and Dara O Briain led the way once again, and with its mix of in-studio (or in-space-telescope in this case) hosts, presenters out in the field, expert interviews and dodgy live-feeds, the show certainly has a touch of the Springwatches about it. An undeniably Good Thing.
So what did I learn? Well there were some lovely "beginner's guide" packages from Dr Cox — even in the depths of winter he headed to the beach to get his trusty sand-scraping stick out and explain the movements of the tides — and I have to say it had never really struck me  that you see the moon "upside down" in the southern hemisphere… I should probably have known that one, though.
But for all of this interstellar information, live images of the Andromeda galaxy, mind-blowing distances and even the discovery of a new planet, the most brilliant moment of the three live shows came within the first half-hour, when Brian and Dara spoke to Captain Eugene Cernan, the last man to walk on the Moon. He was everything you want an astronaut to be — inspiring, humble, and eloquent — and best of all, he referred to the Moon as a 'planet', adding "I call the Moon a planet, sometimes." You've been there, mate, call it whatever you like.
Late to the Office party
The Office: An American Workplace (as we Brits alone call it) has been around since 2005, but somehow it has taken me until now to get around to actually sitting down and watching a few episodes properly. These episodes are like 22 minutes long, by the way; you'd have thought I'd have found time in the intervening seven years to catch one or two.
But now that I have finally got around to it I am, rather inevitably, hooked. It's got such heart, the performances are insanely good, there are a handful of laugh-out-loud lines every episode…  But you guys already knew all this, right? Luckily, I've now got over 100 episodes to go back and enjoy. Can't wait.
Partners in Pretension
Having not even found time in my busy schedule for one of the biggest US comedies of the past decade, you'd think I would avoid adding web-only series to my long To Watch list. But when info about Partners in Pretension dropped into the Dork Adore post box, I thought I'd give it a whirl — after all, how often do you get contacted about a comedy show with 'it's about online ad revenue!' as a selling point? They know their market, clearly.
The show stars Fernando Noor and Tristan Scott-Behrends as a couple of highly pretentious college graduates looking to make a few dollars in this gloomy economic climate by raising money off the back of 'how to' videos that they post online. There are some nice lines, Scott-Behrends particularly is a cool performer and it looks good – but perhaps the most interesting thing about the show is that it exists at all. It may not change the face of comedy, but they're clearly a talented team and, this being 2012, they've been able to make it, and get an audience online. Imagine the vast wealth of great stuff there must be out there… if only we had the time.