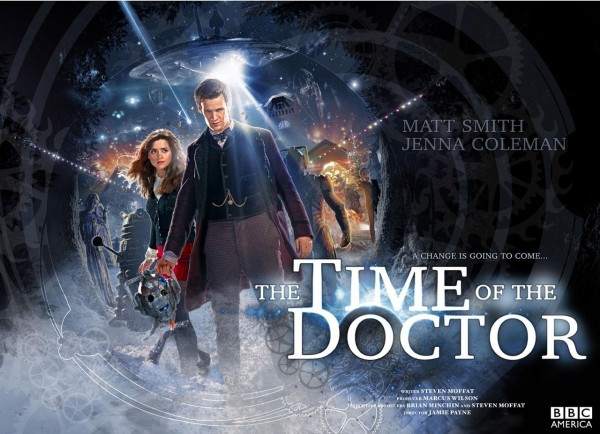 Tick, tock, tick, tock… as Christmas Day draws nearer, so does the end of the line for Matt Smith's turn as the Eleventh Doctor. But before he passes the baton to Peter Capaldi, he's got one more adventure ahead of him – and rest assure, he's not going to go down without a fight, as the new TV trailer for Time of the Doctor shows.
Time for one last bow…
"Eleven's hour is over now… the clock strikes Twelve." – so states the mysterious Tasha Lem (Orla Brady), a character from The Doctor's past who is seen to be leading a siege on the one planet The Doctor must never return to: Trenzalore.
Having rescued Clara (Jenna Coleman) from a family Christmas dinner, The Doctor follows a mysterious message that echoes out through the stars – seemingly leading him into a deadly trap.
"The Doctor is regenerating!"
With Daleks, Cybermen, Weeping Angels and at least one Silent on his tail, and Clara begging to an unseen person to help him save the future, The Doctor's luck appears to have finally run out.
But he's not going to go without putting up a fight, as he screams "If you want my life, come and get it!"
Raggedy Man's last stand
Judging from this trailer, The Time of the Doctor looks like it's going to be an action-packed last bow for Matt Smith, and a hell of an entry for his successor, Peter Capaldi. Remember when I said that you'd be best off buying several boxes of tissues for this one? That still stands. It's going to be tearful. And it's going to be brilliant.
The Time of the Doctor airs Christmas Day 2013, at 7.30 on BBC One and BBC One HD. Geronimo!