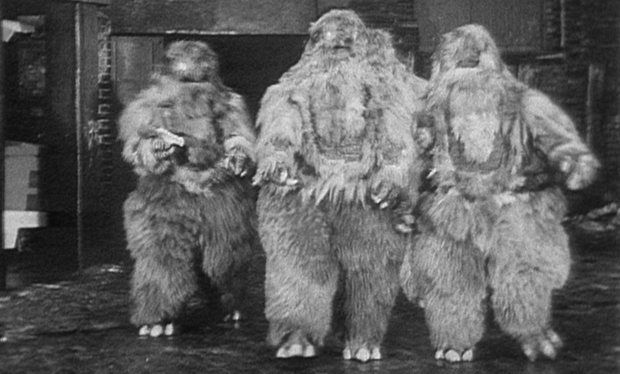 The Web of Fear, the second of the now-recovered Doctor Who serials, is probably better known as "the one with the Yetis on the Underground". And although Yetis running amok on the Circle Line is an exciting prospect in itself, there's also the first appearance of one Brigadier Lethbridge-Stewart and the future big bad of Series 7, The Great Intelligence.
So, let's take a look at The Web of Fear – and those icy Yetis.
The Web of Fear
Doctor: Patrick Troughton (The Second Doctor)
Companions: Frazier Hines as Jamie McCrimmon, Deborah Watling as Victoria Waterfield
Written by: Mervyn Haisman and Henry Lincoln
Directed by: Douglas Camfield
The story in brief
After coming face to face with his own nefarious doppelgänger in the last serial (The Enemy of The World), The Doctor and his companions land the TARDIS in Covent Garden station. Oddly enough, the place is deserted despite it being broad daylight outside.
After some sleuthing, it transpires that the Yeti (last seen in The Abominable Snowmen, the second serial of season five) are well on their way to invading the London Underground. With the help of Professor Travers (seen in The Abominable Snowmen) and a mysterious officer (Lethbridge-Stewart, still a Colonel at that point), the Doctor, Jamie and Victoria try to prevent The Great Intelligence from taking over the Earth by way of Yeti invasion.
Looks great! Where can I get my hands on this?
With four of the five missing episodes now found, only episode three remains missing in action; there's a reconstruction using stills and the soundtrack in its place. The Web of Fear can be downloaded on iTunes – £1.89 per episode and £9.99 for the whole serial.
A DVD release for The Web of Fear is in the works for early next year – you can pre-order your copy now at Amazon UK.
More Doctor Who on Dork Adore – Doctor Who: The Enemy of The World on Dork Adore