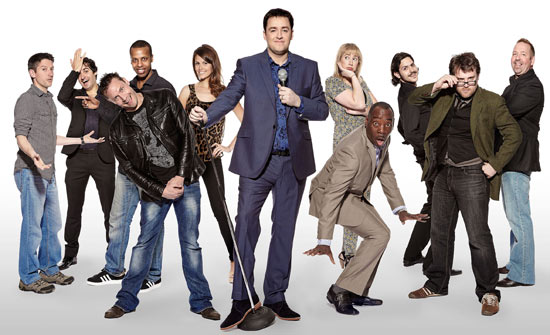 It would make a lot of sense for this post to feature a picture of  The Apprentice winner (spoiler alert!) Tom — unfortunately I used a photo of him last time on the assumption that he would never win. But that's the only negative I can find about dorky Tom walking away with a £250,000 investment…
Yes, like the longest, most involved episode of Dragons' Den ever broadcast, the artist formerly known as Sir Alan has finally chosen our dear old Tom to be his new business partner. Praise the Lord! I have to say, I didn't think he had it in him — no, not Tom, but Lord Sugar. He actually put his apparent aversion to engineers and vaguely creative people aside and hired the right guy. Good on him.
Before we got to that point, though, we had the obligatory interviews — even more important this time, with Lord Sugar's appointed rottweillers crossing the t's and dotting the lower case j's (name that reference) of the candidates' business plans, as well as their CVs.
Jedi Jim essentially came up with the idea of "e-learning" (yes, Jim, we're aware of the concept) with Lord Sugar as little more than a figurehead, and, when asked by Marvellous Margaret to talk about himself without using cliches, promptly informed her that "with me, you get what you see on the tin." Oh Jim. Susie's skincare business was perfectly reasonable — it's the field in which she's already doing very well — but her figures just didn't add up.
And Helen, while one of the most competent candidates ever to grace the competition, just didn't have the big idea she needed. A concierge service in the middle of the recession? I'll pick up my own dry cleaning and keep the £20 charge, thanks… Which just left Tom and his plan, which basically involved selling comfy chairs to offices to try to combat back pain. Not ground-breaking, but something physical — "I'm a products man" says Lord Sugar. And Tom was in. He punched the air. Twitter went wild.
So, Show Me The Funny. What's that all about?
ITV's new stand-up comedy competition Show Me The Funny is quite an odd beast. The idea of having comedians compete X Factor style is fair enough — and has been done before — but this Jason Manford-fronted show also involves the contestants doing tasks…
Manford: "I'm going to split you into pairs, and send you off with a list of things to find and people to see." What?! "And whoever wins will get to determine the running order for this big gig." Oh, I see! No, still what?! Bizarre. The notion is that helping out at a hair salon or setting up a blind date will help the comics get to know the people of the town they're gigging in, and in turn help them write some new material. We'll skip over the fact that lots of decent comedians actively avoid doing "town-specific" stuff as it's kinda cliche…
The tasks take up half of the programme, meaning Show Me The Funny is, in fact, what you find yourself shouting at the screen. There are certainly talented comedians involved — I've seen a couple of them live, and Stuart Goldsmith in particular is brilliant — but you don't get to see enough of their acts to make up your own mind.