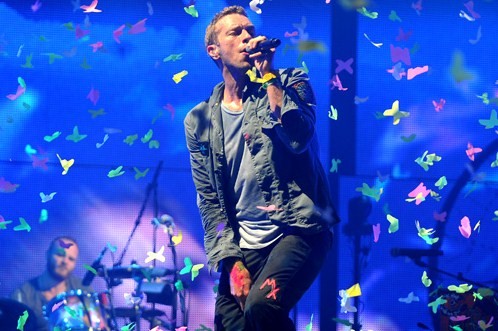 It's a 'blanket coverage' special this week and I'll be honest, this is among my favourite sort of telly. Live event TV, the possibility of pre-watershed sweariness, a cup of tea, and my Twitter stream ticking over – what more could a girl want for?
Happy Birthday, Steve!
No-one knows, much less cares who Steve is, but at Beyoncé's behest, tens of thousands of people sang him Happy Birthday anyway. And that's Glastonbury in a nutshell – you don't like Coldplay, or thought you didn't, but heck you've just found yourself singing along to them with the rest.
To be fair, they kept to bankers — Yellow, Violet Hill, Fix You etc — and that's perfect for a festival. Just bang out the hits, do them with feeling; that's what Coldplay did and from the very comfy sofa in my living room it all came across pretty darn well. Much better than, say, fellow headliners U2 whose set felt mediocre at best. Beyoncé, of course, stormed it. We all knew she would.
BBC Glasto coverage is about so much more than the bands though, and we've had our share of lovely controversy this year courtesy of a certain Mr Zane Lowe. If you haven't heard, he had the temerity to be less than hyperbolic about Beyoncé, having preferred to keep it rock with the Queens of the Stone Age set which clashed with hers. How dare he. Were people *genuinely* outraged by his irreverence, or do they just not like Zane Lowe…?
Things were always much calmer over with Jo Whiley and Mark Radcliffe, waxing lyrical among the hay-bales about Warpaint or BB King, or someone you've never heard of with a sort of laid-back ease. You know what I mean: bit dull, but infinitely preferable to Fearne and Reggie…
The thing that blighted this year's coverage though is the same thing that blights every year's coverage — the bizarre decision to show highlights from a couple of days ago rather than the live action. "We can LITERALLY hear Paul McCartney playing a surprise set on the Park Stage; well this is incredible, he's just brought Ringo on! And Yoko! Here's some Plan B from Friday night." WHAT?!
I don't like tennis… I love it
There's not a whole lot to say about Wimbledon on TV, I just really, really like it. I like that the Beeb sticks with a great match even if it means delaying — horror of horrors — the news. I like the ridiculously over-edited highlights and preview packages. I like glimpsing Jay-Z in the crowd and shouting at the idiots that yell 'C'mon Tim!' when Andy Murray's on court. It's fun, dramatic, and it's the British summer incarnate.