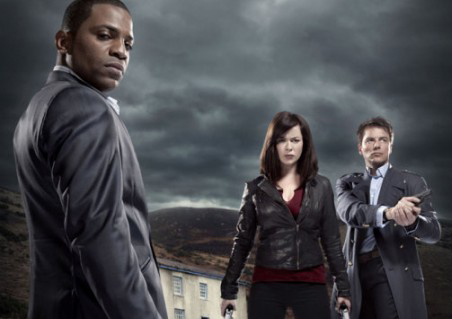 We've now seen three episodes of both Torchwood: Miracle Day and BBC Two's not-actually-all-that-like-Mad–Men-after-all retro drama The Hour. So it's about the right time to give them a mid-series (or, for the very American Torchwood, mid-season) appraisal, don't you think?
Torchwood is an odd one. I've never been a huge fan, but thought that the dark-as-hell five-parter Children of Earth worked really well, and gave the franchise a well-needed kick up the proverbial. So I was looking forward to Torchwood Goes Stateside more than any previous series, and was pleasantly surprised by the opener.
I've always been a Russell T Davies apologist, and the first episode – indeed the "no-one dies" premise for the whole series – is Rusty at his OTT best. Clever idea with loads of potential, big explosions, funny throwaway lines – this is what you want from Davies, and he delivered on all fronts in that first hour.
But since then, it's all gone slightly wrong, mainly due to the fact that the plot seems to have gone AWOL. The second episode consisted of little more than a plane journey during which Captain Jack got ill, and then got better again, and I'm genuinely struggling to remember what happened at all in the third. Something about evil drug companies? Focus on that creepy Soulless sect, though, and I might just get back on board…
Cometh The Hour
Meanwhile in 1950s London, Freddie Lyon is pontificating about the importance of honest, investigative journalism again – sticking it to the powers that be who just won't listen to him because he didn't got to Cambridge. Luckily, the man playing this particular pontificator is Ben Wishaw, an actor I could watch all day.
The Hour got off to a very sedate pace in its first episode, but along with Wishaw I enjoy spending time in the company of Ramola Garai, Anna Chancellor and particularly Julian Rhind-Tutt (whom I still think should play The Doctor at some point) as the meddling government stooge. And in any case, episode two was much more fun thanks to the backdrop of the unfolding Suez Canal crisis, and the central conspiracy involving tragic society girl Ruthie and creepy translator-murderer Thomas Kish really got going in episode three. Classy and – more importantly – increasingly entertaining.
Fool Us
I'm not ashamed to say that I tend to spend my Saturday nights at home in front of the telly (I'm TIRED ok?!) and while the BBC has pretty much given up, what with the awful Tonight's The Night and various lottery-related game shows, ITV1 has produced a really lovely series in Penn and Teller: Fool Us.
I'm Team Wossy through and through so delighted to see Jonathan back on primetime TV, and Penn and Teller are really engaging "judges". Plus, with a run in Las Vegas up for grabs, the magicians attempting to fool Messers Jillette and, er, Teller put on their very best show. Best thing on ITV by a long, long way, and one of the most entertaining shows on TV at the moment full stop.