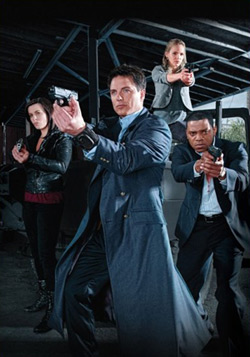 After a few years off, Torchwood is back to pass the time while we wait for the second half of Doctor Who. And it has been controversially Americanised too – whereas Who merely set a couple of episodes there, the new Torchwood is a co-production with the US channel Starz and (even more fanbaitingly) airs in the States a week before the BBC.
So, is Miracle Day good? And, more importantly, is it Welsh?
A Little Time-Travelling
Captain Jack and friends have a patchy history – the first two series couldn't grasp that scattering sex, swearing and violence over your stories does not make them "adult". But the last one, Children Of Earth, was more like it. It was still silly at times, but also complex, ruthless and bleak. Slightly anticlimactic ending, but I enjoyed it a lot.
Not to mention, the Americans have a better record with these shows. If Torchwood had been more like The X Files, Fringe or Angel from the beginning, I wouldn't use it as a punchline quite as often. Despite the Who-led resurgence of late, Brits are still often reluctant to take sci-fi seriously as a genre for adults.
All of which leads me to: I was looking forward to this run, and now I've seen the first episode. I don't think it was as perfectly formed as the opener to Children Of Earth, but still a strong start.
Who Are You And What Is Going On?
There's a lot of restating the premise, for those new American viewers, and it's interwoven with all-new exposition of the "Miracle Day", in order to stop we oldies getting bored. They don't entirely succeed there, the info-dumping does get a bit much, but I can see why they did it. Some may complain it barely resembles old-school Torchwood, but most of that was blown up last series anyway, and it's not as if the first two years were any good.
The new American characters haven't had much time to establish themselves yet, except for Rex Matheson's enjoyable bullish obnoxiousness. Hopefully his blonde colleague (whose name is not memorable) will become more interesting later. Bill Pullman shows promise as the token paedophile, though I've no idea where they're going with that.
The Captain Jack Conspiracy
In the meantime, we have an intriguing premise and some enjoyable Torchwood camaraderie. They've eased back on the grey misery that hung over the last story, and I can't blame them, it would get tiring over ten episodes. And is the whole no-death thing solely for the purpose of changing Jack's status? Could those responsible have engineered it to get to him? My only plot theory so far.
So, yes, a decent if not spectacular start. As someone with no investment in Torchwood's old status quo, or anything other than whether the episodes are good (no, I don't care where it's set, who pays the bills or if we Brits see it first), this American experiment has potential to become a success. Check it out on BBC iPlayer and let us know what you thought.