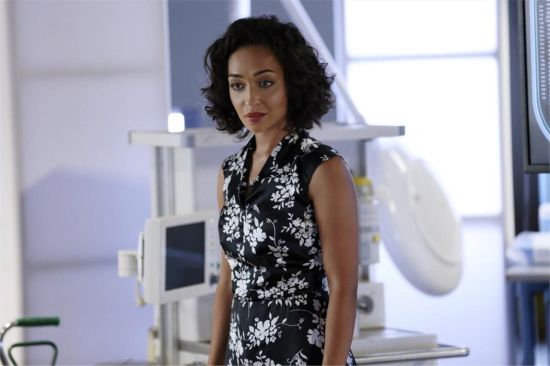 This week, the Agents of SHIELD face a formidable enemy in the form of the most terrifying sight imaginable… well, actually, it's just a lady in a nice flower dress. But that lady is definitely hiding something. As is Skye, in fact. It's all kicking off at SHIELD HQ this week.
Spoilers after the jump, of course. Catch up with the Agents of SHIELD on 4oD.
What a scorching plot…
SHIELD keeps up the jetsetting, as we open this week's episode in Hong Kong. A small-time street magician named Chan Ho Yin is demonstrating his skills on the streets – unfortunately, no-one seems really impressed. He then demonstrates a rather nifty skill in the form of pyrokinesis, which catches the eye of the titular Girl in the Flower Dress, Raina.
She then promptly kidnaps him, with the promise of fame in exchange for a few mild physical tests.
SHIELD agent Quan Chen informs Coulson and his crew, who set out researching his whereabouts. In doing so, they discover that The Rising Tide has leaked information that could have lead to Chan's capture. The blame falls on Skye, who protests and believes that another hacker was responsible.
Unfortunately, said hacker, a platitude-spouting young man named Miles, turns out to be an ex of Skye. Both of them are lead back to the Bus (SHIELDJet) in cuffs, as the team flies to Hong Kong (oh, the jet set lifestyle).
Extremis returns
Meanwhile, Chan discovers that Raina is working for Project Centipede, the people who supplied Mike Peterson with Extremis technology in the pilot episode. Raina then makes the mistake of giving Chan the unfortunately terrible superhero moniker of… wait for it… Scorch.
Unfortunately, this is not a cue for the Chanel 9 News.
Raina promptly (she does a lot of things promptly, that one) turns on Chan, ordering for his blood platelets to be harvested for further research by Project Centipede. The chaos escalates and ends with May and Coulson forced to take out Chan to deactivate the unstable element of Extremis.
In the end, Skye comes clean about the why of her involvement with both The Rising Tide and SHIELD: she tearfully confesses to Coulson that she's been trying to locate her parents, who were involved with SHIELD for an unknown reason. Coulson promises to help, like the gent he is.
Flowers of Evil
Skye takes centre-stage in this episode, as we learn more about her past with Miles and the motivations that drove her to become a hacker. It's a wise move, as Skye comes out of it as the most rounded character of the bunch.
It's also rather frustrating, as we still know little to nothing about the four other agents – I for one would love to see Fitz and Simmons given a bit more depth. And, if you're a regular reader of my SHIELD reviews, you know where I stand on matters Melinda May. There is a vague hint near the start of the episode about May and Coulson's former working relationship, but not a lot more. Which is a shame.
As for the guest stars, Ruth Negga's performance as the mysterious and dangerous Raina far outclasses Louis Ozawa Changchien's magician-with-special-powers. But that's more to do with the nature of the role: near the end of the episode, Chan is so influenced by his own powers that his ego inflates to ridiculous size.
By contrast, Raina is far more serious. Negga has signed on for a couple of episodes, so we'll definitely seeing that flower dress again. If the end of this episode is any indication of where the story is going, Raina could possibly be a part of this series Big Bad – she is seen visiting a mysterious man in prison, briefing him about "stage two of the project" and asking him to contact "The Clairvoyant"…
Next week, SHIELD is taking a televisual break, so the series continues November 8th, with an episode called FZZT.
Your guess is as good as mine. Tune in on November 8th, at 8PM, on Channel 4.
More Agents of SHIELD on Dork Adore | Agents of SHIELD – Eye Spy – Dork Review