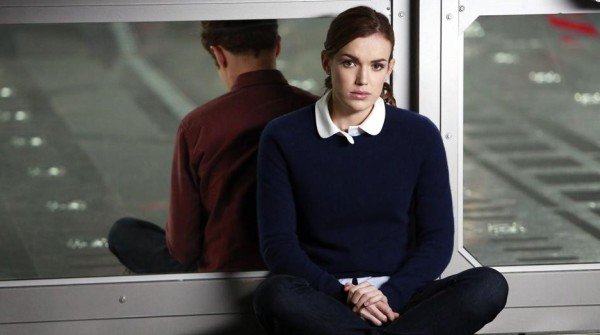 The Agents of SHIELD are back, after taking a week off from all that jet-setting they've been doing. Last time around, Skye told a fib, Ward threw a hufty and we met a seemingly innocent girl in a flower dress… Oooh.
This week – more Marvel continuity references that I've either forgotten about or completely missed! Joy of joys. Spoilers below the jump, of course. Catch up with the series so far on 4oD .
Snap, crackle and FZZT
The dream team are called upon to investigate the death of a scout troop leader who, after hearing a strange humming noise seemingly coming from the woods, goes off to investigate. Only to be killed by some unknown force that leaves his body crackling with electricity and floating in mid air.
He is still floating in mid air when SHIELD descend upon the scene. Simmons comes in closer to investigate, but gets a zap of static electricity that causes the man to fall to the ground.
It's those darn Chitauris again…
Initially suspecting some kind of weapon, the team are stunned when another electro-static event is picked up on their radars. This time, it takes them to a barn, where another man is found floating high and dry above the ground.
Skye manages to find information on the two men, leading to the discovery that both of them were among the fire fighters that were first on the scene in the Battle of New York. Coulson takes May and Ward to interrogate their fellow fire fighters, where Coulson manages to identify a third case of the mysterious virus. The man carrying the virus (understandably freaked out) is comforted by Coulson in his dying minutes, with Coulson telling him about his own death experience.
Back on the Bus, Simmons investigates the Chitauri helmet found in the fire house, deducting that it carries a sort of dormant alien virus. As she explains her findings to Coulson, he notices to his horror that one of Simmons' scientific instruments is hanging in mid air – indicating that Simmons has contracted the static electric virus.
They're real people now!
Simmons contracting the lethal virus leads to what is undoubtedly the tensest twenty minutes in the entire series of SHIELD so far. Coulson puts Simmons into quarantine, getting her to feverishly work on an anti serum for the virus along with a helpless Fitz assisting from outside.
And here's where this episode shines: it finally gives time to develop Fitz (Leo) and Simmons (Jemma) as characters, and not just as one non-entity. The absolute heartbreak visible on Fitz's face as Simmons, mistakenly thinking she's botched all the anti-serums, takes a desperate measure and dives out of the cargo bay into the air shows that this show has so much potential. But it has to let the characters develop as humans, not just as tropes.
So having Ward going all Action Jackson and jump out of the plane to inject Simmons with the anti serum and save her life… maybe not the best of decisions?
Anyway. With this episode standing out from the bunch so far, I'm hopeful that the next few weeks will see more of this sort of thing. Especially with May hinting that she's been through a death experience herself…
More Agents of SHIELD on Dork Adore | Agents of SHIELD – Girl In The Flower Dress – Dork Review