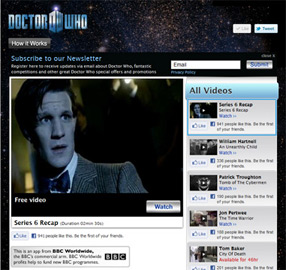 Want to control time in a Time Lord fashion? That's unlikely to happen in your lifetime, but you can now watch episodes of Doctor Who online on a whim with the new Doctor Who Video On Demand Facebook app, and only for a small fee!
Currently the app features one story from each of the first ten Doctors, though oddly Matt Smith only features in a recap of early series six – surely they could've shoved The Eleventh Hour up? Said recap is free to view, which lets you make sure their video player doesn't crash your computer. It'd be quite annoying if you paid money for something you couldn't watch.
And the actual cost is 15 Facebook credits per story, which translates to about a pound in English money and lets you "rent" your episodes for 48 hours. I was wary of the Facebook credit system, but it banged through quickly enough with my PayPal account.
No, it's not a huge selection, and I can't imagine of much interest to hardcore fans, who will have seen these quite well-known episodes before. But for those (like me) whose main experience of the Doctor is the 21st century series, it does let you sample each actor, and a quid for a couple hours of TV is reasonable enough. I'm currently watching City Of Death, starring Tom Baker and written by the amazing Douglas Adams under a pen name, and it's a lot more fun than I expected.
So, yes, the Doctor Who Video On Demand app, does exactly what it says on the tin. With the current light scattering of material, it's unlikely to be a lifechanging website, but there's fun to be had out there.
More Doctor Who on Dork Adore | Doctor Who: Night Terrors – Dork Review