It is the season to be jolly!
Well, if you're a fan of sparkly dresses and ballroom dancing anyway. Yeah, time-honoured Autumn telly favourite Strictly Come Dancing is back, and with it, a certain glam has returned to Saturday nights.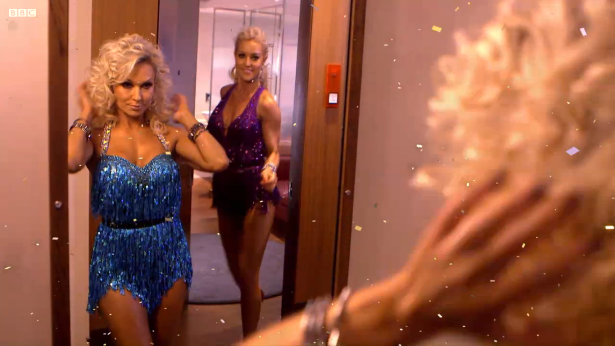 It's already off to a good start. For the first time in yonks, Strictly is the one to watch, and beats out The X Factor by miles.
Who could blame people, really? While X Factor is clinging on for dear life to sob stories that seem to get gradually worse as time goes by, Strictly's mojo is back in place. If you're like me and you've been waiting for three series for something interesting to happen, well… you got your fix.
Here are the highlights from Week One. Feel free to add yours in the comments.
Lisa Riley Camps It Up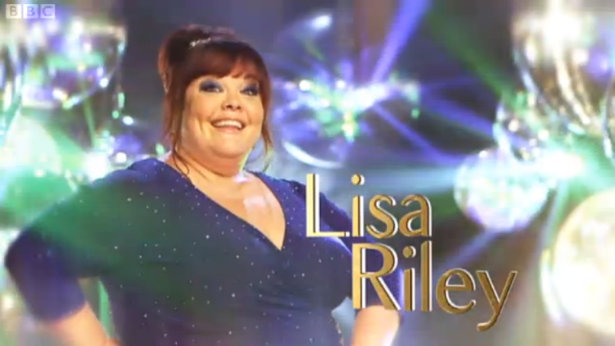 Without a doubt, my favourite moment of the entire dancing weekend was former Emmerdale actress Lisa Riley. Having been touted as a possible DISASTAH by panto-vile judge Craig Revel Horwood, Riley surprised everyone by making them eat their words. And then some!
Partnered with Robin Windsor, him of the vests and nipples, they camped up the screen with a Cha Cha Cha to Aretha Franklin's seminal hit Think. Cementing his status as the most flamboyant dancer on the show (and I totes love him for it), Robin choreographed a routine full of jazz hands and sparkliness. It suited Lisa to a tee.
May she go on to do great things in this competition!
Jerry Drawl
From a fiery and sparkly dame to a statuesque and elegant diva with an accent that could cut through a watermelon. Jerry Hall, former supermodel, took to the floor on the arm of Strictly veteran (and the perpetually unlucky) Anton Du Beke.
Not that she did a lot when on said floor.
The routine consisted mostly of her standing about and doing… well, a bit of a walk cha-cha. Nevertheless, she provided great entertainment by just being herself. In the words of the judges, she took minimal to a whole new level. Then she laughed in its face and blew smoke rings around it with her cigarillo.
He Don't Give A Smith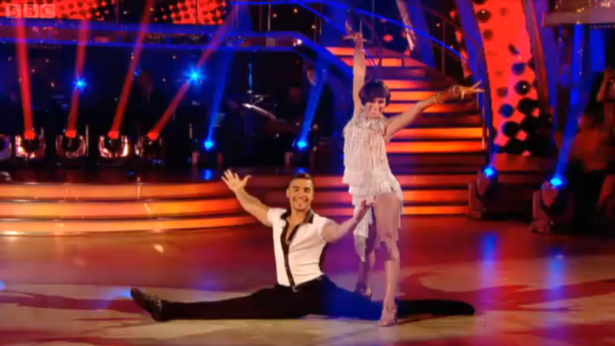 Ah, Louis Smith.
Olympic star, pommel horse conquistador… but the question on everyone's lips was if he could strut his stuff on the dance floor too.
Weeeelll…. I'm still kinda out on that one.
Although he provided a solid week one effort, Smith managed to do so by looking entirely nonplussed by the entire experience. The cartwheel his partner (ever-patient Flavia Cacace) had choreographed in at the end was a good example of just how much he cared.
Still, there's potential. I hope.
Oops
From one Olympic golden child to another. When Brendan Cole got partnered with Victoria Pendleton on the eve of the launch show, I imagine the smug grin did not leave his face for the rest of the night.
Of course, until the following morning, when Victoria actually had to dance.
Bless her boots, for Victoria's first go at ballroom glory backfired with extreme force. She completely blanked, and ended up crying in front of the judges, sobbing that she done Brendan wrong.
Why did I put this in my highlights?
Because Mz Pendleton may just well be the best character on the show. Her redemption arc can't be too far away, can it now?
Other choice moments (both good and bad)
Good
Dani Harmer and Vincent Simone proving to be a match made in tiny little heaven.
Colin Salmon's Martini skit at the end of his routine.
Artem Chigvintsev's man boobs being out and about already.
Bad
Darcey Bussell trying to find her footing as a judge, resulting in her ending every sentence with "yah".
LIFT DRAMA in week one.
Bruce's casual sexism towards Dani Harmer (mentioning that "she has a lovely front as well", because it's totally cool to say that to a 23-year-old woman and former children's TV star.)
On to week two, where the celebs will be dancing a mish mash of styles, including jive and salsa. Here's hoping that Strictly's new spark will alight in full over the coming weeks.
Find out more on Strictly Come Dancing at the BBC's Official Strictly Page.