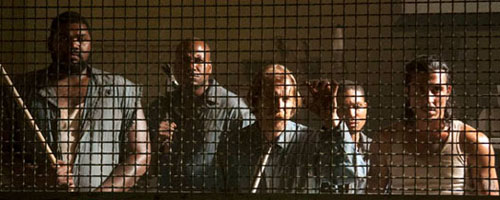 Last week, I gave a glowing write-up to The Walking Dead season 3 premiere, in which our heroes stumbled upon an abandoned prison and tried to clean it out as their new home, leaving one character injured, along with the discovery of still-living prisoners in the cafeteria.
This time, I return with the added pressure of expectations: can they keep it going?
Rick = Shane With Better Hair
For the most part, yes. There's more action-horror, subtle characterisation and refreshing lack of emotional angsting – or, at least, the moaning is kept on the fringes and at the end of the action, instead of occupying the space in the episode where excitement should be.
I'm particularly liking Rick in the new season far. Last year, worryingly, the "lead" character was the dull face of niceness. Yes, Shane was crazy, but as I mused at the time, his survival-at-all-costs mentality made for better viewing.
The show tackles this by having Rick's personal traumas – including his final confrontation with Shane – push him to adopt his dead friend's outlook, becoming more open to extreme measures. I'm hoping the irony is intentional. Andrew Lincoln is doing a great job with the angry-yet-dead-inside thing.
The Many Storylines Of Hershel And Hard Shit
So the lead gang, led by kinda-crazy Rick, have a good storyline dealing with the surviving prisoners. First two killings mostly warranted, but the third one – where he leaves that guy out in the yard – is some hard shit. Our rugged hero definitely seeming dangerous now.
Back in the cell block, Hershel is in a bad way. The resultant scenes veer between worryingly soapy and genuinely sad, including Glen hand-cuffing him to the bed. Also nice to see Carol, who was infuriatingly wet last year, begin a real storyline, even if I don't see why she had to do it at that exact moment.
Also, a little unclear storytelling when Lori is resuscitating Hershel: I thought he'd come back as a zombie, until Carl helpfully exposited that Lori had saved him. Began the mourning process in my mind and everything. But I didn't want him dead, so I'm not complaining.
In short, maybe not quite as punchy as the premiere, but this is another tense episode for the most part. Hopefully they can keep this prison-exploring vibe going for a few weeks, and then David Morrissey's villain can serve up some new conflict.
More The Walking Dead on Dork Adore | The Walking Dead: Beside The Dying Fire – Dork Review