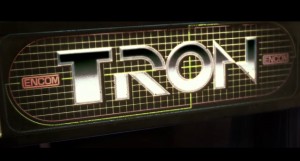 All the luckiest geeks and nerds in the world are currently congregating in San Diego for Comic-Con International. It's the annual global nerdgasm during which all the exciting movie press junkets take place and new trailers are revealed (as well as being a fully-fledged exhibition covering everything else your geeky little heart desires; animé, programming, cosplay – you name it).
What's getting the most buzz at the moment is the new Tron Legacy trailer. It was only this time last year that the film got the go-ahead, based mainly on the great reception the Tron teaser got at Comic-Con '09. So it's with misty eyes that the 2010 attendees marvel at this fully fledged trailer and sigh, 'My, hasn't it grown!'
Amazing light jet!
It's shaping up quite nicely, with a healthy balance of father-son conflict, fast-paced action and impressive visual effects. But by far my favourite thing about the Tron Legacy trailer is the amazing light jet — you hang on in there till the last few seconds, you'll see what I mean.
Tron Legacy (and the inevitable IMAX 3D experience) is out in the US on December 17th; let's hope a UK release isn't far behind.