After taking a peek at the latest Tron Legacy trailer, this week's Etsy finds is dedicated to some of my favourite old school computer games.
Tron 2885 Camera Lens Bracelet, $85 from ibwatson
I love the beauty and simplicity of this Tron inspired camera lens bracelet from Etsy seller ibwatson, aka Focal Length Designs.
I also love that all the jewellery in this store is made from unwanted broken camera parts. A wonderful example of upcycling at its very best!
Tetris Soap, $7.80 from DigitalSoaps
Have some fun times in the bathroom with this eight piece Tetris soap set, inspired by level nine of the game, from DigitalSoaps.
DigitalSoaps is a complete gaming geek heaven so if you are looking for a stocking filler for gaming fanatics I would highly recommend you go take a look, particularly at the impressively realistic-looking Xbox, Playstation, Nintendo/Wii and Sega console and controller replicas. (Incidentally, Emma wrote about Geek Soap's games cartridge soaps earlier this year. Clearly, there's big demand for game-based cleaning products.)
Set of Heart Meter Pins, $20 from spugmeistress
An excellent way to let your fellow geeks know your current life/health status with this set of four heart meter pins from spugmeistress.
You can also purchase an individual pin for $6, but buying the set allows you to wake up each morning and decide whether you are feeling fully charged or almost empty! I can see that they would come in very handy personally.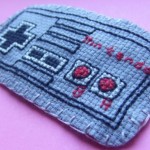 Nintendo Brooch, $18 from Ma Magasin
If you were ever, or indeed still are, the proud owner of a NES you can know wear your heart on your sleeve (or lapel) with this hand stitched Nintendo Brooch from Ma Magasin.
It is well worth paying a visit to the Ma Magasin shop to take a peek at some of the other wonderful work from this Manchester based crafter, including space invade bobby pins, moustache cufflinks and, I kid you not, an embroidered 'sieve boob'.
Pong cross-stitch kit, $20 by craftease
I can still remember when we got our first family computer and programming it with a pong like game (yes, I am old!) so I couldn't resist this Pong cross stitch kit from craftease. It comes complete with everything you need including black Aida cloth and white embroidery cotton as well as full instructions/patter. You even get a needle thrown in!
If you already have all the supplies then you can also buy the pdf pattern on its own for just $2.50.
These old school computer games really do seem to lend themselves exceedingly well to cross stitch don't they?
So, what are your favourite old school computer games? Let me know if you are inspired by gaming geekery in your crafting!
Related: More Nintendo on Dork Adore | Tron Legacy Movie Trailer