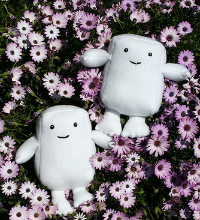 Crafty geekness is nothing new to us at Dork Adore.
We've already looked at how you can make Bella's gloves in Twilight and found some Where the Wild Things Are crochet patterns.
Doctor Who fans take geek crafting to a whole new level, thanks to the hundreds of characters and monsters that make such great DIY projects.
CraftZine have the pattern to make these adorable Adipose Monsters on the right (also known as the Living Fat)
For those with a sweet tooth,  Flickr user alicia rae has created this Dalek cupcakes for the last Doctor Who finale.
Never have I wanted to exterminate a cupcake more.
The demand is so high for Dalek based cake products that they've created a Flickr pool for all the monstrous masterpieces.  Have a look at this realistic looking Tardis birthday cake from Dooogewalah.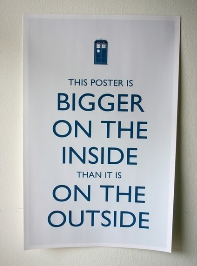 The wartime Keep Calm and Carry On poster seems to be everywhere at the moment, and there are plenty of variations on the theme.
This Tardis based version is definitely one of my personal favourite alternative versions though, even if they have pushed their luck a little with the length of slogan.
Grab a decent frame and you've got the ideal present for a Doctor Who fan.
You can buy it from Etsy seller Tuffin Industries for $10.
Fancy making your very own Doctor Who and Tardis, to go with the Adipose monsters?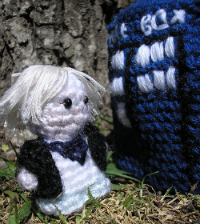 This Amigurumi Doctor Who and Tardis is based on the very first Doctor, William Hartnell.
The crafter who created this, piexelatedmushroom, has kindly shared the crochet pattern, which you can find on her website.
She's included the patterns for several of the doctors on the right hand panel, along with the Tardis.
She's also currently running a blog giveaway to win a hand crafted plushie from her shop of the most recent Doctor, David Tennent, in his famous  spectacles, tweed jacket and red trainers.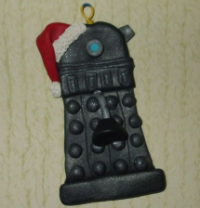 Finally, thinking ahead a few weeks, we've got a festive Dalek!
Sporting a festive red hat, the Dalek can hang from your tree and freak out your family.
It's from Etsy store HeadofHeather for $8.
The store also offers these ghoulish Ood earrings. Nice.