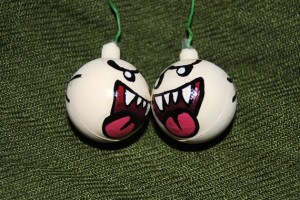 It can't have failed to escape your notice that Christmas is now well and truly on its way. Not only are people roaming the streets with mugs of mulled wine and German sausages in hand, but the Coca-Cola advert is back on our screens which is a surefire way to tell the holiday season will shortly be upon us!
This year, leave that tired ol' box of Christmas decorations in the attic and deck your halls, or tree at least, with heaps of geek instead!
Storm Trooper Felt Tree Ornament, £3.95 from Fabric Fancies
May the force be with you this Christmas! Star Wars fans should head straight over to Fabric Fancies on Etsy for a wonderful range of tree ornaments including Darth Vader, Boba Fett and a Storm Trooper or two.
AVP fans should also take a peek at the site as you can get to decide who will win the battle of Alien vs Predator on your tree?
Ghostbusters Peg People, £32.92, from Randomly Generated
Technically these aren't Christmas decorations, but I can't help but think that, with the help of a small cup screw, these Ghostbuster peg people from Randomly Generated could be hanging from my tree!
We have already featured the Dr Who regenerations peg people here on Dork Adore but for those with a more macabre outlook how about hanging Jason Vorhees from your Christmas tree?
Super Mario Bros. Boo Pair of Baubles, £3.95 from Noodle Jewellery
In a much less horrific, but still slightly spooky vein, you may wish to decorate your tree with a pair of these Boo baubles from Noodle Jewellery, which are also available in a set of three for £5.27.
Or perhaps you may be tempted by the shiny Pokémon or Animal Crossing baubles, amongst many others, that are also available in the holidays section of the shop.
Set of Four Retro Video Game Tree Hangers, £7.90 from OMEGAZOID
Yeah, yeah, I know I only just featured Spugmeistress in the recent Etsy Finds: Gaming Geekery post, but it would be remiss of me not to include this set of four retro video game inspired tree hangers.
Not only are they generally darn pretty  fantastic but they are also made with translucent beads so will glow and shine as they reflect your tree lights!
So, go on then, tell us will you be thinking geek when you decorate the tree this year?