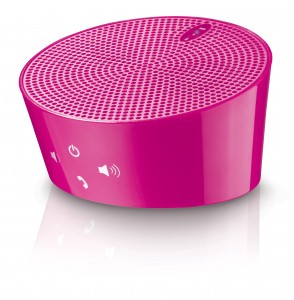 This is a really neat portable bluetooth speaker solution for your musical, and other, needs.
The Aves Digital Aqua (RRP £60) is part of a range of bluetooth products from Aves Digital. It represents their most portable product, for use on holiday, at your desk, and even at the office for the odd impromptu meeting room conference call.
The speaker itself is small and compact, weighing very little indeed. It comes with the by now obligatory soft-feel pouch for snazzy, stylish transport.
The Aqua has several little tricks up its sleeve, the first of which is the lack of wires. It has a rechargeable battery that promises six hours of digital play back. It connects to your phone or other playback devices with bluetooth without any fuss at all, appearing on the 'discovery screen' seamlessly; it took me minutes to get going from box to sound.
The Aqua's sound is very respectable indeed, without any distortion at high volumes. It certainly serves its purpose as a portable, functional wireless garden, table-top, picnic blanket or beach sound provider. The range on the bluetooth is impressive offering several meters of connectivity in case you fancy doing a spot of long-range DJ-ing.
Controls on the speaker are simple: touch-sensitive volume and on/off buttons, as well as a phone call option. This is where another of Aqua's tricks come in. The speaker's digital output is curved and sloped forward to project the sound towards you, making it well suited to phone calls; I found it gave a clear and crisp call quality.  I kept my review unit on my desk so I could listen to music and field pesky phone calls, hands-free at the desk or on the keyboard.  When a call comes in, the music automatically pauses.
So the Aves Digital Aqua is a totally wireless bluetooth speaker, cooler than a bluetooth headset and ideal for playing music pool-side, desk-side or any other side you might need.
The Aves Digital Aqua from: